This article is more than 1 year old
Las Vegas death ray roasts hotel guests
'Solar convergence phenomenon'
Poolside guests at a newly-opened Las Vegas hotel have been enjoying the complex's quick-tan facility - a solar "death ray" with the power to burn flesh and melt plastic.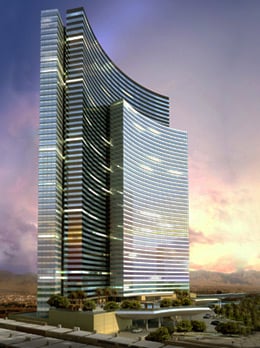 The architects responsible for the MGM Mirage Vdara underestimated the converging power of the building's concave facade, which concentrates a roasting beam onto the pool area.
Barbecued guest Bill Pintas recounted to ABC his midday experience of the ray, as he exited the pool and settled into his lounge chair. He said: "I'm sitting there in the chair and all of the sudden my hair and the top of my head are burning. I'm rubbing my head and it felt like a chemical burn. I couldn't imagine what it could be."
Pintas quickly found out that taking shelter under an umbrella offered no protection from the intense beam, which burned right through a plastic bag the grilled guest was using to carry newspapers.
"I was effectively being cooked," Pintas told the Las Vegas Review-Journal. "I started running as fast as I could without looking like a lunatic."
Wisely retreating to the bar, Pintas reported the effect to employees, who were "kind of giggling" and confirmed: "Yeah, we know. We call it the death ray."
A death ray probe by the Review-Journal revealed it targets an area around 10-15 feet across, which moves across the pool area as the Earth rotates, frying everything in its path for around 90 minutes before and after noon.
The Vdara's management is well aware of the threat to guests, which it attributes to a "solar convergence phenomenon". The architects had taken this into consideration, and "hired a consultant who decided to place a thin film over the window which reduces the sun's effects by 70 per cent".
MGM Mirage spokesman Gordon Absher admitted: "But even with that, when folks are out on the pool deck, on some days people will feel this reflection and the heat associated with it."
Absher explained that there's no easy fix for the problem, since the hot spot will shift according to the season, and so throwing up a few extra-thick umbrellas would mean their continual repositioning.
He said: "This is quite literally an astronomical challenge. We are dealing with a moving target."
Although the Vdara is mulling hi-tech solutions, it's immediate response to the death ray menace is to fall back on "larger, thicker umbrellas" and "maybe some large plants". ®