Best of Linux When it comes to video editing platforms, Windows and Mac own the field. They run the software from Adobe, Apple, and Avid that's preferred by professionals, and most –including all Windows machines – come with free, basic editing software for everybody else.
In my third piece on how media and storage applications for Linux – and particularly Ubuntu – compare, I'll be looking at how Linux stacks up against Windows and OS X in what seems a closed race.
Video editing software varies considerably, from the very basic to the massively complex software used in feature length films. For most of us, the later is unnecessary and overly complex, but rest assured there are Linux video editors for both the novice and the professional.
To know which option best suits your needs is not always simple. At a bare minimum, you'll want a wide range of codec support (particularly new HD formats), non-linear editing and ideally have an intuitive interface that doesn't require a month's worth of cinematography classes to figure out.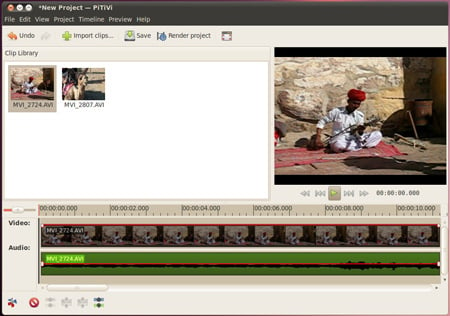 PiTiVi: ready for the YouTube crowd
All of the apps covered here fulfill these basic needs, some better than others. Fortunately, they're all free and open source so you can try each one and decide for yourself.
If you're using the latest version of Ubuntu, you may have noticed the new PiTiVi video editor lurking in your Sound and Video application menu. PiTiVi is new in Ubuntu 10.04 and offers very basic video editing.
PiTiVi's goal is to create an app that's easy enough for amateurs but has everything professionals need. Right now, it's still very new and is probably best for the YouTube crowd. PiTiVi has a very basic set of features that allow you to import and export any video format that GStreamer supports, as well as edit, trim, cut, link, and group your clips in a familiar time-view interface.
A recent update also added the much-requested support for transitions, allowing you to apply fades and other effects when moving between clips. At the time of writing, transitions were not yet in the official release, but the final version should arrive in the near future.
PiTiVi is written in Python and based on GStreamer and GTK+ so it works very well with the GNOME desktop, supporting drag and drop and generally fitting nicely with your theme.
Roadmap filling needed
Unfortunately, once you get beyond the basics of rearranging source materials, PiTiVi doesn't have much to offer yet. PiTiVi lacks support for things like overlays, subtitles, and titles. Nor will you find timeline markers, which are very handy for larger projects with many small clips.
To be fair, PiTiVi is not yet a 1.0 release and is really more roadmap than app at this point. But the project seems to have a good bit of momentum, so while it may not be the best choice at the moment, it's definitely one to keep an eye on.
There are several other editors along the same lines as PiTiVi, such as OpenShot or Kino that offer similar features aimed at the video amateur just looking to join together a few videos from their digital camera.
If you're looking for something more serious, something that can hold its own with the likes of Premiere and Final Cut Studio, obviously you'll have to look elsewhere.
For the rest of this series, we've been ignoring KDE apps since Ubuntu ships with GNOME, but this time we're going to make an exception because one of the most powerful video editors for Linux is a KDE app - Kdenlive.
This uses KDE's Oxygen style, so it will look a bit out of place in Ubuntu, but that's a small tradeoff given its usefulness. Kdenlive functions much like PiTiVi, but everything listed above that's missing in PiTiVi is in Kdenlive - loads of built-in effects, overlays, titles and more.
Similar topics