We at El Reg are great fans of bacon - celebrated for its legendary power to cure hangovers - so we're delighted this fine Friday to present a bust of Kevin Bacon lovingly crafted from the connoisseur's pig product of choice: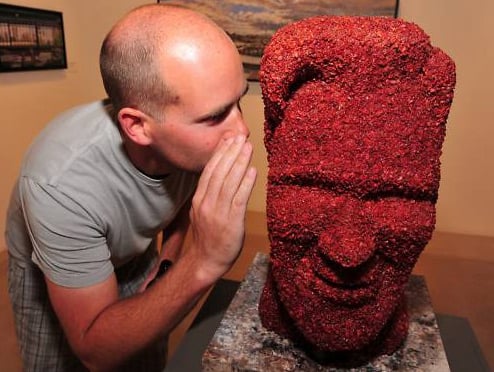 The "Bacon Kevin Bacon" is the work of Mike Lahue, who was commissioned by Justin Esch and Dave Lefkow, owners of Seattle's J&D Foods (motto "Everything should taste like bacon"), to create a bacon likeness of the Footloose thesp.
Over three months, Lahue glued "bacon bits" over a styrofoam representation of Bacon's bonce, then sealed the meaty artwork with lacquer.
While those of you out there suffering the effects of last night's ale might consider this a scandalous waste of perfectly good bacon, it's all for a good cause.
AOL explains that Lefkow's four-year-old daughter, Ashley, was diagnosed with acute lymphoblastic leukemia last year, and the mouth-watering sculpture is up for grabs on eBay in aid of Ashley's Team, "a non-profit, volunteer-driven organization with a simple mission: bring joy to childhood cancer patients and their families".
The auction blurb insists: "Whether you are a fan of American film icon Kevin Bacon, animal protein art enthusiast or just a lover of bacon, the undisputed king of all meats - Bacon Kevin Bacon is a must have."
Indeed, Esch told AOL: "It should be in an art gallery somewhere, but it would also look nice on a coffee table. I think it'll tie together any room nicely. Bacon makes everything better, including art."
Bacon Kevin Bacon comes atop a fetching marble stand, and although it's "not edible", the winning bidder will get a "J&D's Everything Gift Pack" thrown in, which includes "J&D's Bacon Lip Balm", "BaconPOP microwave popcorn" and "Bacon-Flavored Mmmvelopes". Tasty. ®