This article is more than 1 year old
Ireland gives Google traditional pogue mahone greeting
Streetview exposes exposed Jackeens
Google Maps Ireland went live yesterday, and it took the cream of Ireland's media just minutes to find the first pic of a pair of Dubliners baring their hairy arses to Mountain View's all seeing eye.
The Irish Times found this pair of moon-bummed jackeens, who had ambushed the Google car on Dublin's Ballinteer drive. The car must have moving incredibly slowly, as the run-up to the full frontal clearly shows one of the cheeky fellas apparently calling his mate on his mobile.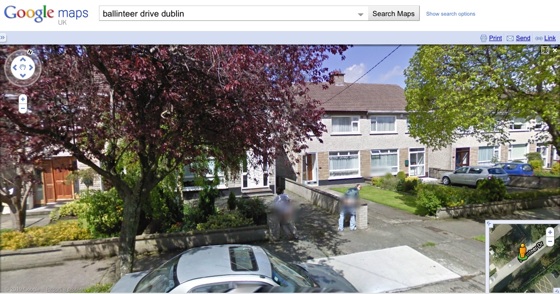 It's worth noting that Ballinteer Drive is just near Dun Laoghaire, the main port for Dublin, so it's a fair bet the lads have spent years welcoming visitors to the Emerald Isle, and know just how to welcome Google's snoop mobiles.
Sharp-eyed readers will notice the Irish Times pic shows the boys in their full glory, while Google Streetview has clearly applied a quick bit of vanishing cream to the parts in question.
But while these two are just the first to show Google that it's not just Irish eyes that can smile, we're sure the coming days will unearth further examples of how the Irish have clutched Google to their bosom. Or at least flashed their bosoms at Google. ®