The battle lines are being drawn up for the ultimate pratfall showdown: between the loveable, kiddy-friendly clowns of Zippos Circus and their evil alter egos from Alton Towers' Carnival of Screams.
Zippos' clowns are none too impressed with the theme park's forthcoming dark side clownery, part of its Scarefest 2010, which promises to leave customers wishing "this terrifying, and freakish troupe had never arrived".
According to the Telegraph, Janerik Brenner, aka Fips the Clown, and chums plan to protest the devilish entertainment outside Alton Towers' main gate today on the grounds that Carnival of Screams "portrays clowns as evil".
Brenner explained: "It's very unfair to portray us as evil. I have always been a clown, I have grown up around clowns, my father and my grandfather were clowns and we are not evil."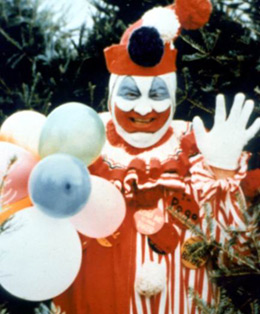 He warned: "I think the attraction will make people view us in the wrong sort of light. It could even have a knock-on effect - once children have got it into their heads that clowns are evil and scary, it stays with them and it makes our job a lot, lot harder.
"It could even stop us getting further work because parents will stop having clowns at their children's parties if they think they will be frightened. It's not funny and it's not fair to us."
Alton Towers "denied the row was a publicity stunt for its new attraction", and sales and marketing supremo Morwenna Angove defended: "Carnival of Screams is a thrill attraction aimed at providing a unique and fun form of entertainment and is in no way a critique of clowns in general. We are simply tapping into the very common and widespread fear that already exists to create a unique Halloween offering for our Scarefest event."
In case you're wondering what the snap accompanying this article is all about, it's our way of showing nippers that clowns are neither evil nor scary, and that they should continue to insist to mum and dad that a clown is the ideal birthday party entertainment. ®