This article is more than 1 year old
HP LaserJet P1102w
Review HP's entry-level laser is available with and without a wireless connection. The LaserJet P1102w has one and the asking price reflects this. This is another extended bread loaf-shaped printer, with the main feed tray folding down from the front panel. The output support is a clip-in fixture at the front, though, which is less neat, when the printer is closed. The main tray has a 10-sheet multipurpose tray fitted just above, which is helpful.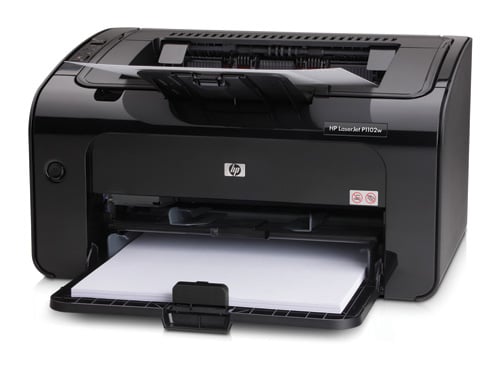 The output tray still sticks out when the printer's closed up
There are two buttons positioned to the left of the output tray, for job cancel and to switch on wireless. The wireless button is illuminated but the light goes out when the printer goes to sleep, which is illogical. You need to connect the printer temporarily using USB to set up a wireless connection and HP provides a cable.
Windows and OSX drivers are on the supplied CD and HPLIP for Linux is available from the HP open source site here.
HP quotes a speed of 18ppm and we saw 16ppm on the text print, though a slow 8.6ppm for text and graphics. Text print is dense and dark with no spatter and greyscales are sound, though would benefit from a few more tones. Grays in photos look a little blotchy, but there's no banding.
Verdict
The single-piece drum and toner cartridge slots down from the top, deep into the machine and replacement parts have a single capacity of 1,600 pages. However, the machine, like all in the group, is supplied with a meagre 'starter' cartridge. At 700-pages, this is only 43 per cent of the standard capacity. I calculate a page cost of 3.8p, which is pretty much in the middle of this group. ®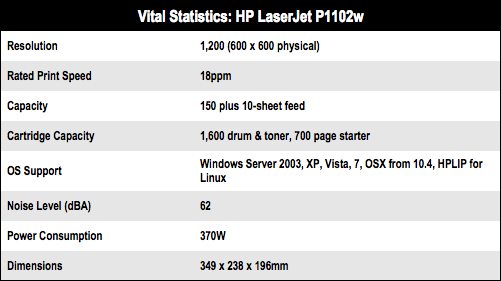 HP LaserJet P1102w
A good printer overall, with wireless connectivity.