This article is more than 1 year old
Samsung ML-1665
Review Samsung's entry-level mono laser, the ML-1665, is small and inexpensive. The black-cased machine has a bulge at the back, but still uses a fold-down front panel as its paper input tray and a fold-over top cover to take the output. This gives it quite a large footprint overall, when printing.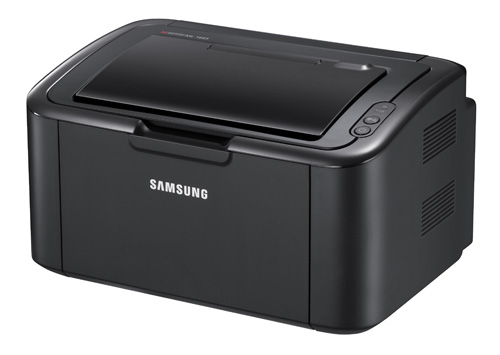 Small when closed, but a big footprint when opened for printing
The paper tray can take up to 150 sheets but, like the Epson Aculaser M1200, there's no single-sheet feed and you have to remove the main paper to print envelopes or special media.
The control panel is no more than a couple of buttons and a single indicator, though one of those buttons has a novel function. Unique to Samsung, at least for the moment, is a print-screen button, which prints the current screen on its host PC or Mac. As long as the printer's within easy reach, this is a surprisingly useful function for capturing interesting pages or online transactions.
The only data connection is USB 2 and installation is straightforward, thanks to a single-piece, drum and toner cartridge, which slots in from the top. Samsung supports Windows and OS X from CD and various Linux drivers are available here.
Verdict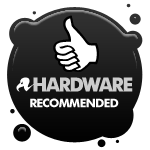 Samsung claims a top speed of 16ppm and we reached 14.8ppm on our 20 page text print and a rather more sluggish 9.1ppm for the text and graphics document. The single, 1,500-page drum and toner cartridge gives a running cost of 4.0p per page, which sits it in the middle of the group. Print quality is generally good, though there's a suggestion of banding in areas of constant fill. Black text is fine, though, with the default 600dpi resolution being more than adequate. ®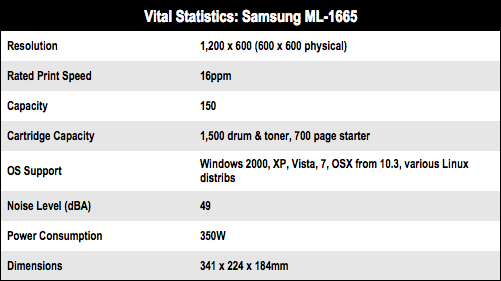 Budget Mono Laser Printer Group Test

Samsung ML-1665
Similar to several others in most respects, though the print screen button is a differentiator.