Reseller touts cheap-as-chips 7in Android tablet
Yours for 85 quid
---
Shocked by the high price of Samsung's Galaxy Tab? Rather spend considerably less than that? How about 85 quid?
Yes, that's what bargain basement seller Morgan Computers - Somerset-based Bentham Ltd snapped up the name in November 2009 after the original went titsup - wants for the "7 inch Google Android tablet with touchscreen technology" it's now offering.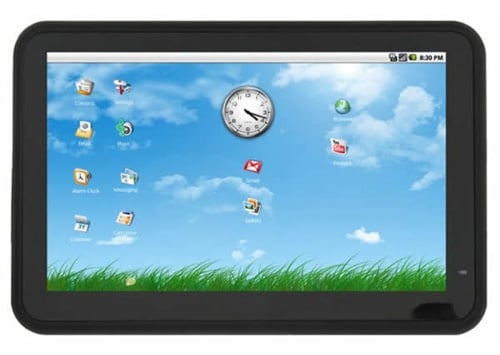 "The perfect product for those of you who can't afford an iPad", says Morgan's website.
The princely sum of 85 nicker doesn't nab you much tech, mind. The tablet's ARM CPU is clocked at a mere 400MHz and there's just 2GB of storage, though thankfully the gadget has an SD card slot.
But the screen is a reasonable, e-book reader like 800 x 480, it has 802.11b/g Wi-Fi, a 0.3Mp webcam and a USB port.
Battery life is a sub-par three hours - the power pack is an 1800mAh job - and the tablet itself measures 195 x 120 x 16mm.
You can order the tablet now, but Morgan doesn't expect to see its stock until 18 October. ®
Thanks to reader Steve for the tip