Internet firms welcome CEOP chief's exit
'Aggressive' approach unlamented
---
Exclusive Jim Gamble's resignation as Britain's most senior child protection policeman has today been welcomed by a broad coalition of internet firms, who said they had been alienated by his aggressive approach.
Major ISPs and websites joined to criticise the former Northern Ireland intelligence chief's strategy at the head of the Child Exploitation and Online Protection Centre (CEOP). They expressed hopes that a new regime will improve cooperation and therefore improve child safety online.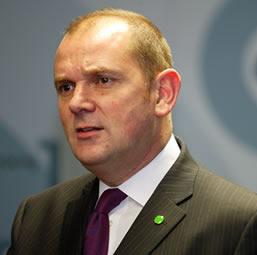 Jim Gamble
Gamble's resignation was revealed last night, ahead of Home Secretary Theresa May's speech to the Tory party conference today.
An often controversial figure, he quit over May's plans to roll CEOP into the new National Crime Agency, which overturned his successful lobbying of Labour ministers before the election. They had agreed to grant the organisation more independence by making it answerable only to Parliament, rather than the government.
The Home Office pointedly responded by saying it wanted to build on CEOP's work but "does not necessarily feel this is best done by creating a new quango".
Internet firms, whose cooperation CEOP investigators rely on, echoed that view.
Malcolm Hutty, head of public affairs at LINX, the ISP cooperative, said the new structure, with child protection investigators working under the same command as organised crime investigators, could help address current child protection issues online.
"As figures show, ISPs have effectively eradicated child pornography hosted in the UK," he said.
"The remaining problem is material hosted abroad, usually by organised crime gangs. If the change of structure means better cooperation between CEOP and international law enforcement specialists on organised crime, then this will be a good thing for child protection."
Other sources, who spoke on condition of anonymity, said the departure of Gamble will offer the chance of a "clean slate" between industry and investigators. One criticised him as "an extremely aggressive person" and a "loose cannon" who "loves the media spotlight".
Gamble's supporters argue his zealous advocacy has been very valuable in improving child safety online.
He has used his media profile to lobby, for example, for websites to adopt the CEOP "panic button" and to complain that law enforcement agencies are required by law to reimburse ISPs for their retrieval of data on suspects.
A senior source at a very large internet firm said new leadership "would allow things to move on". CEOP's policing-style approach had not always been appropriate, he said, particularly as it has expanded to deliver online safety education. The source cited the Internet Watch Foundation as an example where a collegiate approach from authorities, in contrast to Gamble's, had been highly successful.
Gamble's supporters have meanwhile moved swiftly to defend him and criticise the government. Malcolm King, a former member of CEOP's advisory council, claimed on Today that the coalition risks appearing "pro-paedophile".
Sara Payne, the child safety campaigner, said she was "disgusted" at the government for "betraying" Gamble. ®