This article is more than 1 year old
Verity Stob faces execution, Wikipedia-style
Citation needed
A 22-year career chronicling the world of computing programming counts for nothing, it seems. Columnist and author Verity Stob may be nominated for deletion from Wikipedia for not being "notable" enough.
No date has been set for her termination, but an ominous note posted earlier this year warned that "if notability cannot be established, the article is likely to be merged, redirected, or deleted".
The "encyclopedia anybody can edit" finds room for several hundred lists of animated TV series episodes, and the biographies of around 30 British pornographic actors. But the author of the longest-running satirical column on computer programming may not be in such illustrious company for much longer.
A tearful Verity told us[citation needed]:
"I didn't ask to be in their rotten encyclopedia. From now on, I shall ignore Wiki hits in any searches that I make, and I urge the right-thinking people of this country to do likewise, in the name of justice. It is time to throw off the tyranny of the Wiki'd people."
The Stob column began life in 1988 in .EXE magazine (RIP), predating the BOFH by four years, and has found a home here at El Reg seven years ago, following the demise of .Dr .Dobbs .Journal.
There is no known picture of Verity Stob - a model posed for the cover of her 2005 anthology - but here's a picture of the prettiest Wikipedian we could find. Again.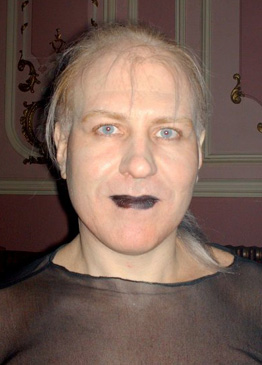 A Wikipedian
Something must be done, but what? Ominously the BOFH could be next. The Wikipedia article for Simon Travaglia's long-running creation has been marked "C-Class on the quality scale" and of "Low-importance on the importance scale." ®
Related Link