NASA's WISE loses its chill
Frozen hydrogen spent, but heavenly surveyor lives on
---
NASA's Wide-field Infrared Survey Explorer, aka WISE, has finally run out of the frozen hydrogen cryogen which kept its infrared detectors nicely chilled as it surveyed the heavens.
Since launching in December last year on its mission to map the entire sky in search of "millions of hidden objects, including asteroids, 'failed' stars and powerful galaxies", WISE's 40-cm (16-inch) telescope has captured over 1.8 million snaps in four infrared wavelengths.
When it completed its first full survey back in July, NASA released this fine view of the Pleiades star cluster:*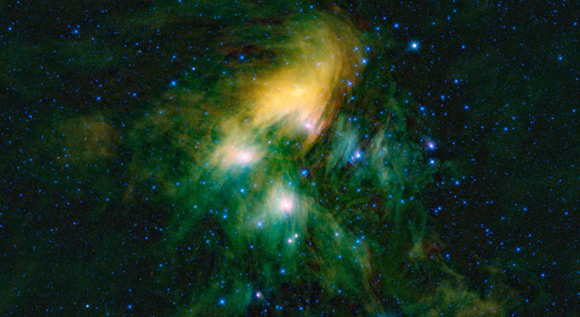 WISE has already sniffed out "19 comets and more than 33,500 asteroids, including 120 near-Earth objects", although there are plenty more discoveries expected as scientists trawl the vast library of images it beamed back to Earth.
Jaya Bajpayee, the WISE program executive in the Astrophysics Division of NASA's Science Mission Directorate, said: "The science data collected by WISE will be used by the scientific community for decades. It will also provide a sky map for future observatories like NASA's James Webb Space Telescope."
Although WISE's main mission is done and dusted, it will continue to operate at a balmy -203°C on the NEOWISE [Near Earth Object + WISE] Post-Cryogenic Mission. Amy Mainzer of NASA's Jet Propulsion Laboratory explained: "Two of our four infrared detectors still work even at warmer temperatures, so we can use those bands to continue our hunt for asteroids and comets."
The first batch of WISE data will be released to the astronomical community in spring 2011, and the rest about a year later. NASA has an initial gallery of images right here. ®
Bootnote
* NASA explains: "Color is representational: blue and cyan represent infrared light at wavelengths of 3.4 and 4.6 microns, which is dominated by light from stars. Green and red represent light at 12 and 22 microns, which is mostly light from warm dust."