Hitachi shows 1600 x 1200 panel for 7in tablets
302ppi touchscreen, anyone?
---
Much of the coverage of Japan's Ceatec consumer electronics show has centred on Android tablets and Toshiba's glasses-free 3D TV line. But here's what caught our eye while perusing local newssite Impress' show highlights write-up.
It's Hitachi's 6.6in tablet-oriented LCD panel that incorporates in-plane switching (IPS) technology for a brighter, higher contrast image that can be viewed from a greater range of angles than a conventional LCD panel.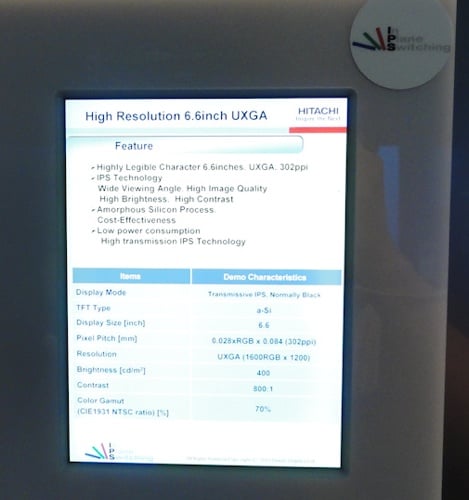 Source: Impress
But that's not the killer feature. No, this boy has a better-than-full-HD resolution of 1600 x 1200, making for a pixel density of 302ppi.
That's only slightly less than the iPhone 4's 3.5in "retina display", which comes in at 326ppi, but more than double the density of the iPad's 132ppi.
Now, this is just a display, but Hitachi recently announced that it has developed an IPS LCD with an integrated touch panel that negates the need for a special, touchscreen-specific glass substrate - the touch panel here sits on the LCD's colour filter layer.

The result is a panel that's much thinner than before, Hitachi claimed, and, with fewer layers, undoubtedly cheaper to make, eventually.
Put the two together and you have a crisp-as-anything touchscreen display for 7in tablets. And if Apple is indeed thinking of offering a 7in iPad, we can't think of a better screen to build in. ®