The Curse of Wikipedia strikes Norman Wisdom
Graun, Mirror fall for bogus factoids
---
The obituaries for Norman Wisdom have again highlighted lazy journalists' reliance on Wikipedia. This time, bogus information inserted by a drive-by prankster was upheld by a Wikipedia Administrator - and reprinted by newspapers including The Guardian and The Mirror.
Both papers yesterday told us that the late comic actor had composed Vera Lynn's classic (There'll Be Bluebirds Over) The White Cliffs of Dover. While Wisdom was indeed a songwriter - the PRS (via ASCAP) lists seven compositions - the wartime classic wasn't one of them.
Here's the Mirror, from its "10 Things You Never Knew About Norman Wisdom":

The Mirror
Which still hasn't been corrected. The Guardian also repeated the bogus factoid. Today the Graun crowed at the Mirror's cock-up: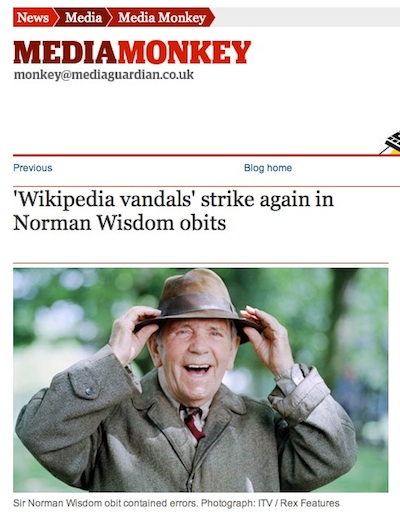 "Hah, what fools! Who'd trust Wikipedia without checking?"
...but coyly failed to mention its own Wiki-dependency: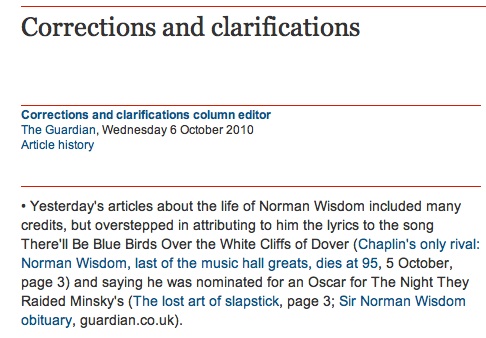 "Um, er..."
It's a hard habit to kick. In March 2007, George Melly's son Tom was the first to highlight journalists' dependence on Wikipedia, here at El Reg. When Ronnie Hazlehurst died, we were the first publication to notice that the widely repeated claim that he'd come out of retirement to compose for S Club 7 - another Wikipedia factoid - wasn't in fact true.
So where did this one come from? ®
Hat-tip to reader Derk-Jan for helping us straighten out the time line, and the source of the bogofactoid