'We Want Two' Navy carrier plan pondered by Cabinet
Flat-Earth frigateers v Fleet Air Arm Whitehall DEATHMATCH!
---
Comment Beleaguered admirals are fighting hard to save the Royal Navy's new aircraft carriers and with them the service's status as a world top-three navy, according to reports. One plan thought to be on the table bears a close resemblance to that set out in the Register's recent "We Want Two [carriers] Or No Votes For You" campaign.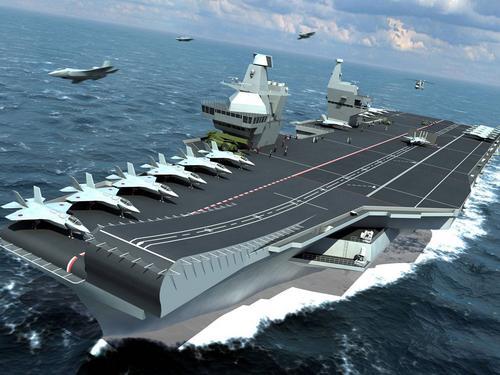 Not bad - but let's lose that ski-jump and stick in a catapult.
The Telegraph reports on the matter today, quoting unnamed insider sources at the heart of the ongoing Strategic Defence and Security Review (SDSR, the new government's name for the savage cuts that will be necessary to sort out the UK defence budget crisis).
According to the paper's informants, the navy has proposed cutting its fleet of "escort" warships (submarine-hunting frigates and air-defence destroyers) from the current 23 down to 12 - a couple more than we here on the Reg naval desk suggested under We Want Two. We didn't think that the navy could preserve its vital amphibious-landing capability without cutting the tremendously costly - and largely useless - escort fleet a little further. It seems that we were on the money, as reportedly the two-carrier, 12-escort plan calls for "all amphibious craft" to be dispensed with.
If the paper's sources are correct, some version of the escort-slashing, carrier-saving plan will go ahead. Reportedly the ministers of the National Security Council, meeting yesterday, "stopped short of a formal decision", but "insiders now believe both ships will be built".
The only decisions to be made now, apparently, are the details of the carriers' equipment, mission and aircraft. Essentially there are three options for each ship.
The first option is the existing plan from the previous government, under which both carriers would be built without catapults to operate strike fighter groups. As they would only be able to operate vertical-thrust aircraft, they would be equipped with air groups made up of F-35B supersonic stealth jumpjets and some kind of vertical-landing fleet radar aircraft - probably the existing Sea King helicopters to start with, perhaps replaced many years hence by some kind of pricey, custom replacement (for instance V-22 Osprey tiltrotors, modified under the unfortunately-monikered TOSS plan).
This plan has myriad disadvantages. Although it makes for a fairly cheap carrier, the F-35Bs would be horrifyingly expensive, particularly if bought in time to equip the ships as they are completed. Not only is the F-35B the world's first ever supersonic stealth jumpjet, it is currently suffering severe delays in flight testing: for quite some few years, until the production line gets into gear and economies of scale kick in, it will be very pricey to buy. It will also be comparatively expensive to own and operate, as perhaps the most or second-most complicated jet in the world today. Worse still, the need to carry a lift fan, swivelling exhaust nozzle and multiple lids and doors to cover these things when not in use means that the F-35B jumpjet will not be as good a combat plane as the F-35A and F-35C versions (runway and catapult respectively).
Then, the need for a unique vertical-landing radar bird will mean major cost and poor capabilities. A radar aircraft needs to fly high and stay up a long time, things which rotary-wing aircraft can't do as well as normal aeroplanes.
The second option is to build one or both carriers with catapults. As the ships are gas-turbine powered and so lack any steam source, they can't have present-day steam cat technology: this is a major reason why they were planned without catapults, as nobody knew at the time whether the electromagnetic alternative could be made to work.
Nowadays, though, the US Navy have a trial electric cat in tests ashore, and are certain that the tech will pan out - to the point that the next US supercarrier, currently in build, is now past the point at which it could be reverted to steam. British firms have also done trials for the MoD and are confident they can make electric jet-hurlers work.
Similar topics
Broader topics