Castlevania: Lord of Shadows
More God of War, less Van Helsing
---
It's a Kind of Magic
The arrival of Light and Dark magic adds to combat, rewarding combos not with meaningless tallies but with tangible powers which replenish Gabriel's health with every hit, or double his strength. Complementing the predictable wealth of moves and upgrades with additional tactical nuance, Light and Dark magic pulls resource management into combat, imbuing it with equal prominence to blocking, attack patterns and enemy types.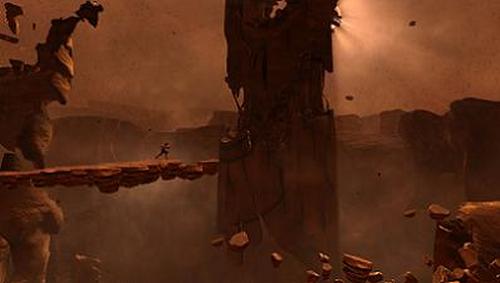 A bridge to fear
Puzzles also increase in prominence throughout the latter part of the game, becoming ever more elaborate. Simple God of War-style statue alignments and light-beam reflections are replaced with complex minigames, the best of which sees you miniaturised by a witch and placed in a trap-ladened music box, where musical sheets need careful combination to open safe pathways through its mortal hazards.
Exploration, on the other hand, while adequate and always pleasing on the eye – thanks to some beautiful vistas and the game's soft, impressionistic palette – differs little from its sources of inspiration. Scaling the crumbling, vertiginous walls of 300ft-high castles always exhilarates, and watching Gabriel double-jump and swing around giant floating ramparts is nostalgic heaven to anyone weaned on 16-bit side-scrollers. But there's an ever-present feeling you're being funnelled through Lord of Shadows' strict linear pathways, led inexorably on by twinkling ledges and blinking grapple points.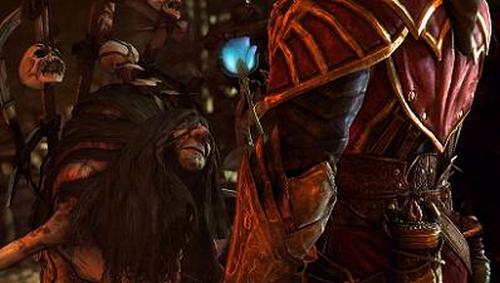 'I know where you can get it, if you want it'
The fixed camera reinforces this linearity, and often irritates. With backtracking often prohibited, branching paths represent strict 50:50 choices, in which replays are the only option for collectionists. Combat also suffers the usual limitations of a fixed camera, where off-screen enemies attack with impunity, disrupting valuable combo chains. And Lord of Shadows' predilection for wide angles makes studying attack patterns all the more difficult.