This article is more than 1 year old
Robot teddy bears attack Alzheimer's
'Granny, meet your new best friend'
ROTM If your granny has gone 'round the bend, Fujitsu has just the item to bring her back to the here and now: a robotic, theraputic teddy bear.
This new high-tech teddy — labeled in Google-translatese as a "badger type Sosharurobotto child" — was designed by Fujitsu to treat geriatric dementia, and was revealed at the digital wonderland that is the CEATEC Japan 2010 show in Tokyo.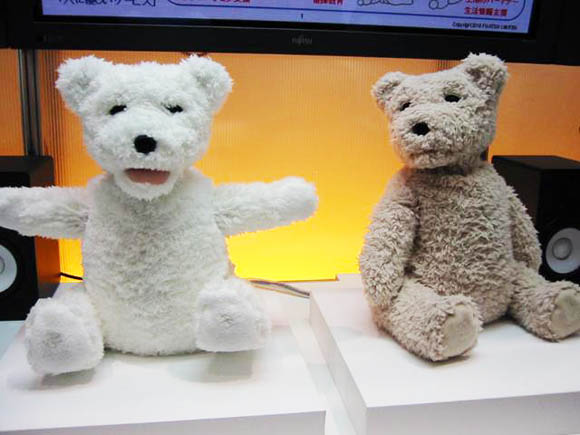 White bear: welcoming or attacking? Tan bear: depressed or bored?
Fujitsu's "social robot badger child teddy bear" has but one goal in life: to provide interactive comfort for demented old folks. To aid in that noble mission, he's equipped with an arsenal of sensors and motors beneath his cozy, furry coat, plus a synthesizer with the voice of a five-year-old boy and a nose-mounted camera capable of recognizing a human face.
Teddy's inner electronic soul can respond to a variety of stimuli with up to 300 movement patterns, including "raising arms in delight, looking downwards in sadness, and kicking [his] feet in a fit of bad temper."
The SRTB can also replicate a wide variety of facial expressions and body-language gestures, all in response to actions performed by or sounds made by the patients interacting with him.
Fujitsu notes that even patients who communicate little with their fellow humans have been observed to be "communicating quite congenially with the robots and even humming tunes with them."
Acccording to Fujitsu, the salubrious effects of the cuddly robo-companions are measurable. Testing has shown that after playing with the cute li'l guys, test subjects showed increased autonomic and lowered sympathetic nerve activity, which improved the subjects' ability to resist stress and to relax.
A Teddy can also be programmed through a PC hook-up to perform a series of predetermined actions — a capability that designers suggest could be used by a bear to lead a patient through an exercise regimen or to play games with his squirrelly human pal.
Animal therapy, Fujitsu notes, is used today to provide psychological comfort to patients, and so it stands to reason that: "Robot therapy offers advantages such as not having any of the hygiene-related problems that can accompany animals and of course, these robots do not bite." ®