The changing face of branch offices
Hot workers, hot desks, stressed IT?
Workshop It is not only data centres and computer rooms that have started down the path of the "strategic consolidation" of resources. Whilst organisations rightly rate their people as amongst their most valuable assets, many have also begun to optimise the accommodation that they make available to their workers.
The shift to "hot desking" for staff who are not routinely based in an office began even before the economic crisis of the past couple of years accelerated the need to rationalise facilities costs.
Today, with desk sharing in head offices becoming almost a matter of course, many organisations are looking to "streamline", i.e. reduce, the cost of running their remote and branch offices. What impact are these changes having on IT systems and the support delivered to remote office-based workers?
All consolidation initiatives start off with the goal of saving money, and whilst few organisations possess accurate figures on the true cost of supporting IT operations in remote locations, many are aware there are real savings to be made. A primary indicator of this is that today, few remote offices / branch offices contain skilled IT support staff on site. With no-one available to help users locally or to carry out routine maintenance procedures, the onus has shifted attention to remote management of systems. And as everyone knows, it is usually the systems operated by end users that require most hands-on support, namely desktops and laptops.
It is fair to say that whilst desktops, laptops and printers form the bulk of devices to be supported in remote locations, most offices in the past may have held several servers, printers and no small amount of storage. Following on from server consolidation projects in HQ, many organisations have subsequently undertaken similar projects in their branches. In some scenarios it may have been possible to completely remove most servers and storage systems from the branches, perhaps by the utilisation of WAN optimisation technologies, to allow users to keep response times within acceptable levels. This has also left the sometimes tricky conundrum on how to provide effective and secure local printing capabilities.
Where this is not possible, it may be an option to run just a single, more powerful server in the remote office by using virtualisation to run several servers locally in the office but making the remote support of a single physical server more manageable. Using remote control and monitoring tools coupled with automatic data protection and replication technologies to stream backups and snapshots over the network connection in "trickle mode" can help to make this more manageable and reliable, not mention cost-effective.
On the desktop side, similar remote control tools can help central support staff better assist users in the remote location, especially when automatic software deployment and asset management systems are in place, to get corrupt software operational quickly. Another approach is to take a "thin client" approach to desktop services, thereby effectively running most applications back in the nice, secure and manageable data centre.
Today the advent of desktop virtualisation solutions offers a far wider range of options that extend the ability to run remote desktops to a much broader community of users without adverse user reaction. More importantly, these solutions also offer potential cost benefits, as well as opening up the potential for far more systems to be "fixed" without having to send IT staff to the site.
Remote locations do require specialist support tools but, much more importantly, they also need IT support processes that are tailored to meet the particular demands and expectations of users in these offices. Even with good support technology and processes, it should still be remembered that for end user support, calls usually occur when something has gone wrong. As a result, the end user in the remote office can be more than a little stressed and in these circumstances it is amazing just how effective it can be when the help desk staff have a good "telephone manner". Indeed, experience shows that good interpersonal skills help get problems resolved more quickly and, not coincidently, the user's perception of IT as a whole can be elevated dramatically. The personal communications factor is even more important to users at the end of a phone than it is with a desk side visit.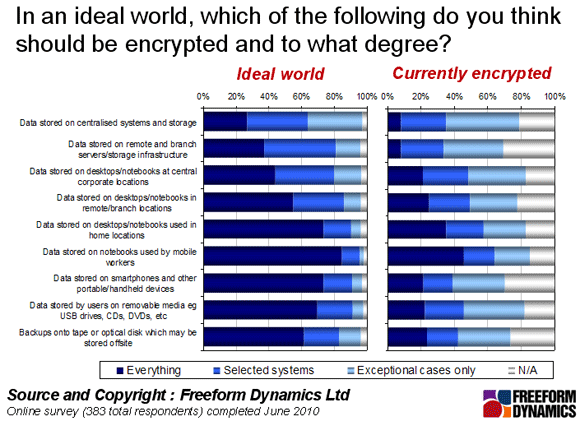 Another factor that is forcing its way up the branch office IT agenda concerns the growing need to secure the data held on systems in remote locations, some of which may be located in neighbourhoods where office break ins may be more common than at HQ, and where security may not be as comprehensive. The results highlighted in the figure above show that whilst the need to encrypt data in remote locations is widely recognised, the actual level of protection achieved leaves something to be desired.
This is an area where legislation, regulation and customer expectations will increasingly add pressure on organisations with remote workers to ensure that sensitive data is protected robustly. It is therefore a topic in which organisations who do not have adequate encryption and data protection / data recovery systems in place will need to expend time, money and skilled resources in the coming months and years.
Remote offices are changing. Hot desking is making the job of IT to support users in branch offices more challenging, especially as IT professionals are removed from such locations. Automation, virtualisation and remote monitoring and control are the order of the day to keep such offices functioning effectively and without breaking the bank. ®