Prime-time television is shedding audience at an increasing clip, with the most recent decline due not to crap shows such as High Society or The Marriage Ref, but to Apple.
"A new entertainment force is once again driving disruption: the iPhone," blogs Peter Farago, marketing veep at Flurry, the app-tracker self-described as "a leading smartphone application analytics and monetization platform."
Flurry is the company that sniffed out the iPad on Apple's Cupertino campus before launch, earning the enmity of chief executive Steve Jobs. Apple's flinty CEO went onto ban Flurry and a whole class of analytics apps from the device
According to Farago's numbers, 19 million iOS-device users spend over 22 minutes per day playing social games on their iPhone/Pod/Pads. Those are minutes that they could otherwise spend watching the puerile stereotypes infecting NBC's Outsourced — and the advertising that encapsulates it.
"Treated as a consumer audience," Farago notes, "[iOS social gaming's] size and reach rank somewhere between NBC's Sunday Night Football and ABC's Dancing with the Stars, and only four million viewers shy from beating the number one prime-time show on television, FOX's American Idol."
And the "size and reach" of total iOS use is far greater than those 19 million users. As Farago freely admits, Flurry tracks the usage of only 20 per cent of the iTunes App Store's 250,000-plus available time-wasters.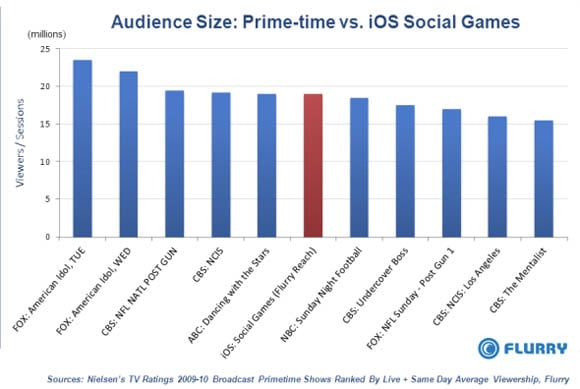 Even with only 20 per cent of iOS social apps surveyed, TV has a formidable competitor (source: Flurry)
"Additionally," he notes, "since this analysis focuses on only two categories of applications, social games and social networking apps, it's clear that iOS devices are already ahead of prime time television's hottest shows."
From where we sit, it's difficult to feel sorry for the lords of the Vast Wasteland™. But the speed at which their gravy train has slammed on its brakes is impressive: "Given that the app store only launched in July 2008, these figures are staggering," Farago notes. "Mass consumption of applications on mobile devices has exploded in record time."
Flurry's numbers also help explain the energy and investment that digital dogfighters such as Apple, Google, and others are putting into their ad-platform battles. Advertisers still need to sell their wares, and if TV viewers are increasingly turning off their boob tubes and turning on their handhelds, that's where the money will flow. ®
Bootnote
In 2004, Apple CEO Steve Jobs famously noted: "You watch television to turn your brain off and you work on your computer when you want to turn your brain on." Although there could be some debate over whether iOS devices should be classified as computers, there's little argument that the "top shelf kicked-in-the-crotch humor" of Ow My Balls! and its App Store ilk requires a quintessentially televisionesque brain-off state to be fully enjoyed.
Similar topics