This article is more than 1 year old
Branson 'spaceship' successfully falls off mothership
Surly bonds of Earth still in place for Virgin
Virgin Galactic, the nascent suborbital joyride company backed by bearded biz-lord Richard Branson, has announced a further milestone on its road to dominance in the exoatmospheric-excursion market. In a test yesterday, one of the firm's passenger rocketplanes was successfully dropped from a jet "mothership" at 45,000 feet to make a glide landing.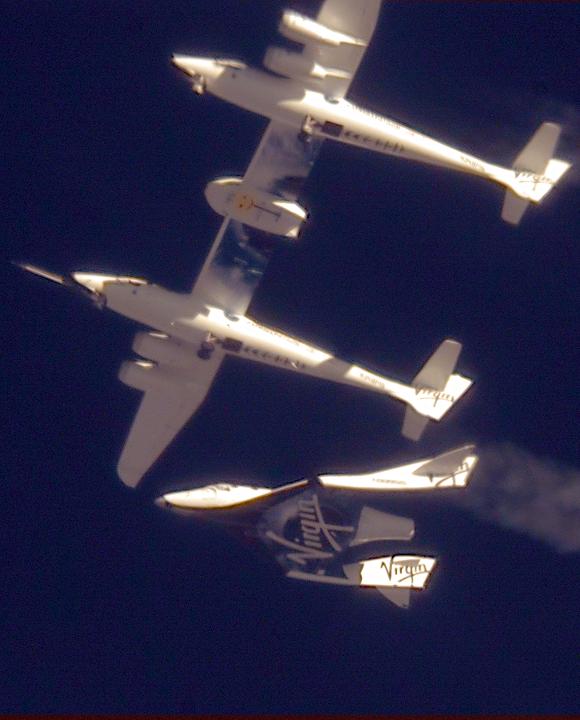 Down, down and away
"I watched the world's first manned commercial spaceship landing on the runway at Mojave Air and Space Port and it was a great moment," enthused Branson. "Now, the sky is no longer the limit and we will begin the process of pushing beyond to the final frontier of space itself over the next year."
Following release from the specialist high-altitude four-engined jet VMS (Virgin Mother Ship) Eve, the VSS (Virgin Space Ship) Enterprise made an unpowered gliding descent to land at the Mojave "spaceport". Pilots Pete Siebold and Mike Alsbury carried out a mock landing approach at height before doing it for real on the Mojave runway.
During commercial operations, a VSS would instead fire up its tyre-rubber-and-laughing-gas powered rocket to zoom briefly out of the atmosphere. Even with a helping hand from the VMS carrier, a VSS lacks the power to reach full orbital velocity and so remain in space. Thus, once the rocket has burned out the little ship will plunge back to Earth for a glide landing in New Mexico, the planned base of operations for Virgin Galactic.
It's stretching reality to call this a "commercial spaceship", and it's clear the sky remains very much a limit - and will remain so even once the Virgin "Galactic" joyrides commence. But a commercial seat on an actual real orbital spaceship - as offered in recent times by the Russian space programme and the International Space Station, and perhaps in future by companies boasting armed Soviet-era space warships - costs well over 100 times what a ticket from Virgin Galactic does: a comparatively pocket-pleasing $200k.
Virgin Galactic tickets can be booked as soon as you like; Branson's people have been taking reservations for years already. The first proper test flight isn't expected until next year, however, with commercial operations some distance beyond that.
"Our challenge going forward will be to complete our experimental program, obtain our FAA licence and safely bring the system into service," said Virgin Galactic CEO George Whitesides, following yesterday's glide. ®