This article is more than 1 year old
Stephen Fry eats humble pie for Windows Phone 7
New phones, operator partners announced
"I'm not being paid to be here," said voiceover artist Stephen Fry, a guest at the London launch of Microsoft's Windows Phone 7*.
Microsoft is relaunching its mobile phone efforts, this time as an underdog - nobody has lost more market share in the past three years as Windows Mobile. The new version is incompatible with earlier and existing versions of Windows Mobile, and aimed at the consumer.
Microsoft and its carrier partners announced several new models. It was slightly telling that the CEO of Everything Everywhere couldn't remember the name of his models - and maybe even forgivable, as touchscreen phones are so generic these days.
Several new models will be available, starting from 21 October, Microsoft said today, including one from Dell - that looks like this.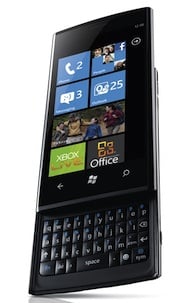 Dell's Venue 7
HTC has three models to fling at the marketplace: the HTC 7 Mozart with Xenon flash and 8MP camera exclusively to Orange; the HTC 7 Trophy with Vodafone, with a more compact 3.8" screen, and the HTC HD7 to all-comers, with a 4.3" screen.
Samsung's offering is the Omnia 7 - a 4" model to be carried by Orange, T-Mobile and 3, while LEG offers the Optimus 7. Dell's offering a slide-down QWERTY model called the Venue Pro, which you can see at Dell's site, here.
It took a stage whisper to remind Tom Alexander, chief of the merged T-Mobile UK and Orange UK network owner Everything Everywhere, of his new models. "The HTC er, er… ah, thank you... Mozart," he announced.
Microsoft's sole morsel of news is that it will restore clipboard functionality in the first update early next year. Cut and paste has been removed from Windows Phone 7, as a kind of homage to the original iPhone. (Apple added a clipboard to the iPhone at the third attempt, in 2009.)
For once Microsoft really is in the unusual position of being the underdog - it's really fighting for the consolation prize against a wall of indifference. Operators are carrying the iPhone and BlackBerry devices and want to cut the others down to as few choices as possible - but not hand the future to Google.
There are other factors for the squeeze. RIM and Apple's rival OEMs want to support as few as possible, too. And it's a tall order to ask developers, too, to support more than three platforms, given the lack of a common run-time between the leading rivals. Samsung and Sony Ericsson in the past few days have confirmed they'll drop Symbian to save costs.
So really, Microsoft is jostling for that third not-Apple and not-RIM spot on retail shelves with two other contenders, Symbian and Android, and Android is currently carrying all before it. Android has been immensely popular with carriers and operators, and the hackish tech-savvy user.
But Windows may have a fighting chance. Microsoft has put plenty of good work into the ground-up redesign of the UI. The widgets - which Microsoft calls "tiles" - are spectacularly fugly, but the interaction design once inside the applications makes for a slick and simple experience. This extends to Zune HD sync, which is much nicer than either iTunes or Microsoft's own Windows Media Player.
Windows Phone 7 will also sync your music and photos wirelessly with the home network over Wi-Fi; something the iPhone still can't do, inexplicably.
"I feel enormous pleasure using this phone," said Fry, who said he'll have one in his pocket - but one from all the rivals in every other pocket too. "You have to be very stoney-hearted not to welcome a new player." ®
Bootnote
*We don't doubt that, but Fry is becoming as ubiquitous at tech events as Bill Boakes was at by-elections - we're pretty sure you can buy packs of invite templates for smartphone press launches pre-printed with "With Mystery Guest Stephen Fry". And he hasn't been on the telly for... ooh, at least a week.