Google and friends scheme offshore windmill army
$5bn underwater power backbone
---
Google says it's investing in an underwater power backbone that will connect 6,000 megawatts of wind turbines along the Atlantic coast of the United States.
On Monday evening Pacific time, with a blog post, Google announced it had agreed to invest in the Atlantic Wind Connection (AWC) backbone, which will connect off-shore wind farms across 350 miles (563km) of coast, from Virginia to New Jersey. According to Google, the turbines will provide enough power for 1.9 million households, equivalent to about 60 per cent of the total wind power generated in the US last year.
"[The investment] offers a solid financial return while helping to accelerate offshore wind development — so it's both good business and good for the environment," Google boasted. "The new project can enable the creation of thousands of jobs, improve consumer access to clean energy sources and increase the reliability of the Mid-Atlantic region's existing power grid."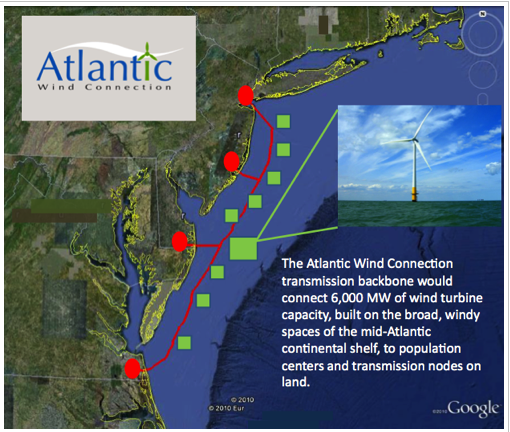 Basically, the project will collect power from wind farms up and down the coast and shuttle it through "the strongest, highest capacity parts" of the land-based power grid. None too surprisingly, Google calls it "a superhighway for clean energy."
According to Google, the Atlantic coast is particularly suited to this project because the grid is overstretched (see the sweeping 2003 Northeast blackout) and it doesn't yet have access to "high-quality" wind power. It also offers relatively shallow water that extends well in the ocean. "These shallow waters make it easier to install turbines 10-15 miles offshore, meaning wind projects can take advantage of stronger winds and are virtually out-of-sight from land," Google said.
In building an underwater backbone, the company added, the project allows developers to build wind farms without building their own transmission lines. "As those in the Northeast remember from the 2003 blackout, transmission is severely overstretched on the east coast. The AWC project relieves grid congestion in one of two National Interest Electric Transmission Corridors which were deemed to have significant network congestion and need speedy creation of transmission capacity."
According to The New York Times, the project will cost an estimated $5bn. Transmission outfit Trans-Elect is leading the project, and it's funded by Google, renewable-energy obsessed global investor Good Energies, and Japanese trading firm Marubeni.
Google has a thing for renewable energy. The company's Google Energy subsidiary is a qualified power marketer, meaning it has the right to buy and sell power on the wholesale market, just as a utility would, and the company says that it applied for this right specifically to purchase renewable energy for its worldwide collection of data centers. It has also invested $38.8m in a pair of American wind farms, and, famously, it hopes to power entire data centers with Bloom Energy's overhyped solid oxide fuel cell server.
In 2007, the company told the world that it eventually wants to be "carbon neutral". Construction for the AWS backbone is set to begin in 2013, and it's expected to be completed in 2021. ®