This article is more than 1 year old
Ixos Divo 2.1 iPod dock and speakers
Sound reinforcement for your PC or TV
Review While all-in-one computers can often knock out an intelligible noise, laptops and oft-mute desktops will always benefit from some sonic support. PC-friendly 2.1 sound gear has been around for some time now, with plenty to choose from. Yet what really makes the Ixos Divo stand out is its impressive appearance. Indeed, Ixos doesn't just want the Divo to nestle up to your PC monitor, the company suggests this audio eye candy could also live in the lounge tethered to your TV.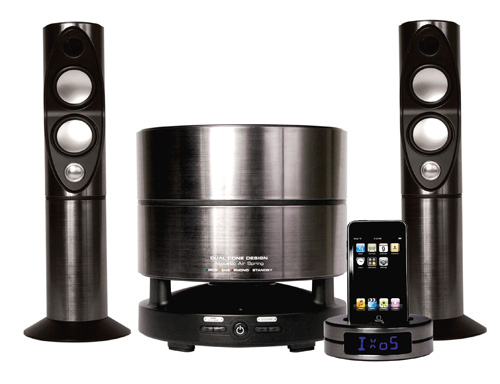 Full metal jacket? Ixos' Divo
Yet looks can be deceptive, the Ixos Divo appears to be clad in brushed metal, giving it a durable, industrial air, but closer inspection reveals that it's just a very neat synthetic finish atop a black plastic housing, about 3-4mm thick. This adorns the two mini tower satellite loudspeakers, the sub-woofer – that's reminiscent of a small rice cooker – and the puck-shaped iPod dock/charger that could easily be mistaken for a fashion victim's ashtray.
The black plastic remote control is about the size of a business card and deals with all the usual audio functions along with iPod control. Its membrane buttons might not suit everyone, but at least it'll be easy to keep clean and is likely to survive handling during deskbound slurping and scoffing sessions.
Rated at 45W RMS, the speaker array is comprised of two 50mm midrange drivers and a 15mm tweeter in each satellite – the enclosures are 300mm tall and 600g apiece. A 155mm bass driver sits the sub unit, which also houses all the amplification circuitry, but utilises an external PSU. At 185mm in height and 190mm in diameter, its quite a lump to have on the desk, but at 3kg is certainly sturdy enough to keep on the floor and features a screw-in mains cable, so it's not going to disconnect if kicked.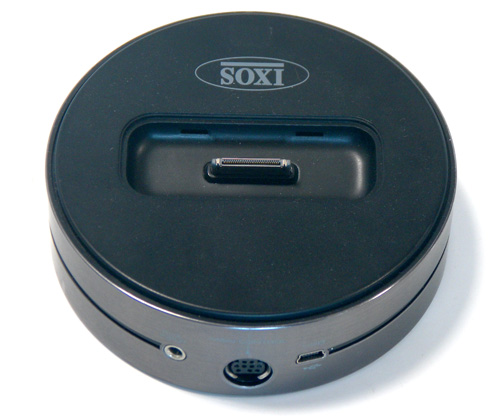 The dock includes six iPod mounts and also provides a 3.5mm jack aux input
Alas, the same can't be said of the iPod dock. Perhaps fitting for an Apple-orientated accessory, this device is hooked up to the sub unit using an 8-pin mini DIN cable, the sort that harks back to the days of LocalTalk. It's not a latching type either and, given the abuse use this review sample has had, this interfacing has worn very loose.