WD has added a fresh model to its line of network-connectable hard drives.
The MyBook Live, like the current My Book World Edition - reviewed here - comes in 1TB and 2TB versions and hooks up to your router over a Gigabit Ethernet link.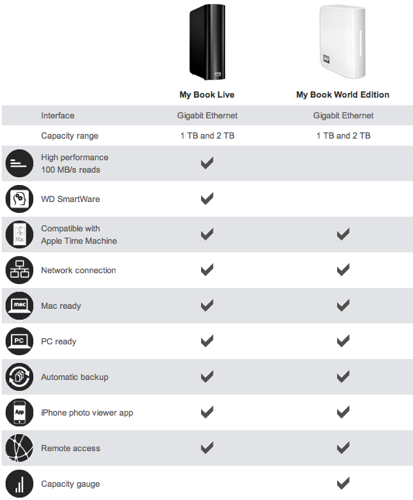 Networkable WD My Books: how the generations differ
WD said the new model is capable of delivering read speeds to a peak of 100MBps, rather more than the old model could manage, though how close it comes to that speed in the real world remains to be seen.
The Live packs in WD's customary array of server - DLNA and iTunes - and back-up options, including support for Mac OS X's Time Machine.
The drives, backed by a three-year warranty, will cost £155 (1TB) and £205 (2TB) when they go on sale next month. Meanwhile, you can avail yourself of the no-less-functional 1TB MyBook World Edition for £119 - rather less than the £169 it launched at - from WD's UK online shop. ®