PARIS radio chap slips into safe sex outfit
Attempts to avoid sequin dress
---
The Paper Aircraft Released Into Space (PARIS) team are running around like headless chickens ahead of the planned 23 October launch, and while we've now got a main payload, some helium and a substantial cellar of fine Spanish wine to fuel the attempt, we're still plugging away on the Vulture 1 aircraft.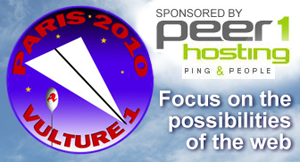 Suffice it to say, the paper plane will be ready on time, and we'll have a big photographic piece for you next week when it finally rolls out of the hangar.
In Blighty, meanwhile, Reg hack John Oates and radio man Steve Daniels (callsign G6UIM) are packing their bags ahead of flying out for the aerospace event of the year.

Steve, while fiddling with his transceiver this week, was inspired by my son Rui's dazzling sequin tribute to our patron saint, Paris Hilton, and decided to get dressed up himself.
We suspect that the resulting snap is intended to block any attempt to get him to don a dress for launch day. Whether or not this succeeds depends in large degree on the amount of red wine he necks, so don't be surprised if he pops up again sporting a fetching Paris Hilton Orkut creation, with matching jewellery.
Whatever he's wearing, Steve will be tracking the Vulture 1 via its onboard GPS/APRS unit, details of which you can find here. ®
Additional PARIS resources
Our dedicated PARIS section, with all previous updates, is right here.
New to PARIS? We have a basic mission summary here (pdf).
Our Flickr page, for your viewing pleasure.
Check out our YouTube channel - currently featuring a few kit tests.