Iomega has a line of pocket-sized external flash storage devices using a USB 3.0 interconnect. Should we call them USB slab drives? "Stick" seems a little too small.
The External SSD Flash Drive has a 1.8-inch form factor and comes in 64, 128 and 256GB capacities, all with built-in 256-bit encryption. We don't know if it is single- or mult-level cell flash inside but assume its multi-level and probably 2-bit.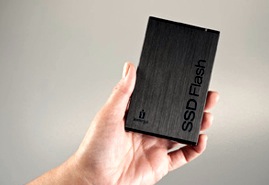 You get what's called a sleek metal case for your money - and you'll need a fair bit of that. Also included is bundled-in backup (Roxio Retrospect) and anti-virus software plus a three-year warranty.
There is also v.Clone software. Iomega says this captures a complete virtual image of your PC, including the operating system, applications, settings, and all files, and writes it to the flash drive. You can access the cloned copy and use it seamlessly on another computer, as if you are working from your own PC. When you reconnect, it will automatically sync your data to the primary PC, meaning files are always up to date. The MozyHome cloud backup service is also included.
There are no actual transfer speed numbers, but Iomega says that the USB 3.0 interface is up to 10 times faster than USB 2. It should surely be a whole lot quicker. The company says it is twice as fast as a USB 3.0-connected 7200 RPM hard disk drive.
Iomega's SSD FLash Drive will be available in November, with suggested retail pricing in the US of $229.00 for the 64GB product, $399.00 for the 128GB one, and $749.00 for the $256GB one. Ouch. ®