PARIS looking 50/50 for Saturday launch
Vulture 1 pilot jets in from US as skies threaten rain
---
The Paper Aircraft Released Into Space team is nervously eyeing the skies ahead of Saturday's planned launch.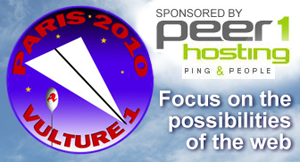 According to the latest predictions, it's not looking too promising, with a good chance of rain and cloud over the weekend.
Of course, conditions today are absolutely perfect here in the Iberian peninsula, and are set to continue that way pretty well until Reg man John Oates and radio chap Steve Daniels touch down in Madrid on Thursday.
Come what may, our Vulture 1 aircraft will be ready to roll this week, and we'll have a full photo update on that as soon as it's done. While glueing together bits of paper, we're also excitedly awaiting the arrival of our pilot, who's jetting in from the US of A.
We'll be introducing him to an expectant world on Friday, so brace yourselves for a substantial dose of the Right Stuff. ®
Additional PARIS resources
Our dedicated PARIS section, with all previous updates, is right here.
New to PARIS? We have a basic mission summary here (pdf).
Our Flickr page, for your viewing pleasure.
Check out our YouTube channel - currently featuring a few kit tests.