This article is more than 1 year old
WTF is... DLNA?
A cure for media playback blues - or will it just have you seeing red?
Don't mention DLNA. I did, but I think got away with it...
A difficult promise to fulfill - which may be why it's only whispered to the public. DLNA members like Samsung, Acer and Microsoft seem never to use the initials. Samsung calls its implementation "AllShare". Acer's brand name for the technology is "clear.fi". And Microsoft wraps up DLNA in its all-embracing Media Player and WIndows 7's Play To... command.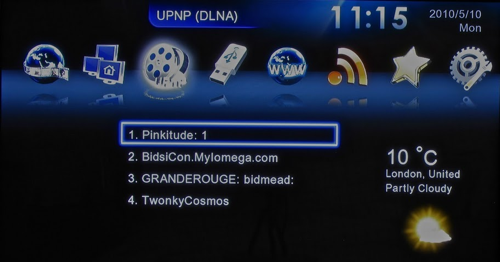 This media player isn't an official DLNA device - so it's capable of handling formats like MKV and ISO that are outside the rigid restrictions imposed by the Alliance
Panasonic is a notable exception. "We do promote it as DLNA, because we think that's more recognisable for the consumer," says Steve Lucas, Panasonic Product Specialist for Consumer Products. "But then we explain which DLNA file formats we support. One of the things that I think is confusing with DLNA is that although there are a number of file formats that are part of the affiliation, it's down to the individual manufacturer which formats are supported in their products."
It was Microsoft that first devised UPnP AV - the universal plug-and-play protocol that forms the underpinning of DLNA.
"UPnP was the original standard and DLNA is a certification process on top of that," explains Bob Hannent, CTO at set-top box manufacturer Humax. Significantly, Hannent's own company hasn't chosen to go down the DLNA route. "We don't even mention UPnP," he says. "We're just referring to 'home media networking'."
Some software options
Users of Windows 7 are already in the game, and earlier versions of Windows can be updated to suportg DLNA simply by upgrading to the latest version of Windows Media Player.
Twonky offers a suite of products that enjoy the approbation of the Alliance, but are not officially certified, because no framework for software certification has been hacked out yet.
TVersity is a very well liked Windows-only DLNA-type server available in both a free and a paid-for version.
As its name implies, the PS3 Media Player is targetted solely at the Sony Playstation 3, but has the merit of being cross-platform and free.
Boxee is also cross-platform and freely downloadable, but with much wider scope - it can run on the first-gen Apple TV, for example. A hardware implementation from D-Link is expected toward the end of the year.