This article is more than 1 year old
WTF is... DLNA?
A cure for media playback blues - or will it just have you seeing red?
All you need is UPnP?
Colin Crawford, marketing manager for the UK radio manufacturer Pure takes the same view. Pure uses the core UPnP technology to allow its internet-connected radios to play music customers already have stored on their network.
"As far as DLNA's concerned," he says, "we don't see quite enough value for us to be spending what is a fair amount of money annually." To sign up with DLNA, companies like Humax and Pure would be expected to pay an annual membership fee of around $10,000. That's a lot just to formally state you support technology that you already do.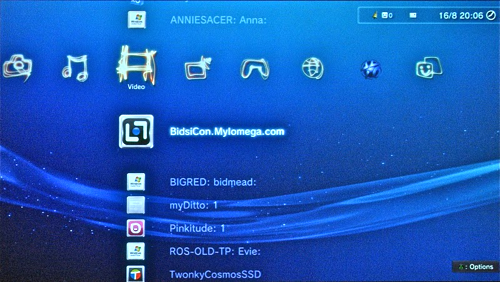 Sony's PS3 is an excellent, if quirky DLNA client. The Pinkitude server seen here is tuned to work with consoles - with the result that it doesn't work with any of the other DLNA devices on my LAN
To be DLNA certified, a product is tested to show that it meets the defined standards. But there's no requirement to demonstrate that your DLNA-compliant devices actually work together with anyone else's. Practical tests of this kind are left to the informal DNLA "plugfests" the Alliance hosts around the globe at regular intervals.
So this leaves DLNA in a curious place. With the exception of Apple, a notable non-member with its own quite different home networking technology, large manufacturers endorse DLNA, build it into their products, but often don't mention it, or put it out under their own proprietary name - a marketing ploy that seems intended to encourage brand loyalty rather than offering hope for interoperation between brands.
DLNA: A developer's view
Open source coder Benjamin Zores, who has worked extensively with UPnP and DLNA, sees DLNA as an attempt by a consortium of industry heavy-hitters to "harden" the geeky flexibility of UPnP AV, mostly by imposing severe restrictions on the formats it will handle, to the extent that "99 per cent of video files are not DLNA compliant".
This explains the dreaded error messages that DLNA users seem to see too often: "Unsupported Format" and, worse still, "Data is Corrupted" - which it almost always isn't. In summary, says Zores: "DLNA is truly broken by design".