Apple's FaceTime enables any iPhone 4 to make video calls to any other iPhone 4, assuming neither of them were bought in Saudi Arabia, UAE, Qatar, Egypt or Jordan.
FaceTime was hyped by Steve Jobs as the application that would turn the world on to video calling, and Apple web sites proudly listed it as a key feature of the iPhone 4 - until about a month ago when any mention of the capability mysteriously vanished from Apple sites in certain countries. Now it seems the service itself isn't available on models of iPhone and iPod Touch bought in those countries.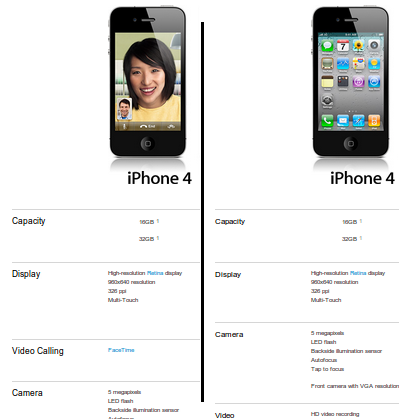 On the right we have the Saudi page, on the left the UK description including video calling
The disappearances were noted by SaudiMac, which has been keeping a list of those countries where FaceTime won't work and tracking the progress of Nayef Almansi, a Saudi lawyer who bought an iPhone and is suing his local operator for selling him an iPhone without FaceTime
It seems that in its enthusiasm to bring video calling to the masses Apple neglected to allow for the fact that VoIP isn't legal in every country, and that an increasing number of countries require anyone providing telecommunications services (as Apple arguably is with FaceTime) to provide for lawful intercept. So while iOS 4.0.2 allows anyone to make FaceTime calls, upgrade to version 4.1 and if your iPhone came from the wrong place your video calling disappears.
SaudiMac has been delving into the iPhone configuration to see if the setting can be reversed, and it seems it can. That delving has turned up some interesting regional limitations - the Japanese aren't allowed to turn off the shutter sound, while the Chinese can't do Wi-Fi - but it's also located the NOVOIP flag that disables FaceTime, allowing those prepared to jailbreak their iPhones to enable the feature.
Apple fans can also import devices, which will continue to have FaceTime enabled - FaceTime only operates over Wi-Fi so can't be blocked by the network operator, but that won't help them video call with their less-globe-trotting colleagues.
One could argue that this is another example of Apple's arrogance, ignoring local sensibilities in the American pursuit of cultural imperialism. Or, equally, one could argue that these countries shouldn't be allowed to restrict the ways in which their citizens communicate. But with Western governments poised to follow the East in demanding lawful intercept we're afraid the only reason that FaceTime is allowed anywhere is because no-one really wants video calling anyway. ®