This article is more than 1 year old
196 nations open three week (!) telecoms congress
Quadrennial quagmire or efficient conclave?
Election madness
This is the rundown for the SG election, pieced together from the recollections of those who were there — most of them slipping in and out of consciousness.
There are, roughly, 196 voting countries. Every representative is given a special pen (I am trying to track down a picture of this holy scribing instrument), and a special ballot paper, and a long series of instructions. You must mark a cross, and only a cross. It must not stray beyond the borders of the box provided for the cross. Disobey any of these rules and your vote will be discounted.
Oh, and you're locked in. You can't leave the room. Actually you can, but you won't get back in if you do. A lot of attendees bring some food and drink in with them.
Before you vote, though, you have to wait for every single government entitled to vote to be read out — all 196 of them. In French. Okay, that's done, now vote. No, hold on, Japan has two ballot papers. Everyone stop. Okay, we have taken one ballot paper away. Leaving Japan with two minus one ballot papers, which is one. One ballot paper per representative. Okay, we are set. Begin.
No, stop. Malaysia doesn't have a ballot paper. That must be why the Japanese had two. Hang on while we give a piece of paper to Malaysia. Malaysia, do you have the special pen? Yes? Okay, everyone vote. No, no, wait, hold on, Denmark has done a tick instead of a cross (the pressure must be terrible). Everyone stop. Get Denmark a new ballot paper. Denmark, do you have the special pen? Yes? Ok, everyone vote.
When this is finally done, all the votes are put inside the transparent voting box. The transparent box is actually new: it used to be a wooden box flown in especially from Geneva and sarcastically nicknamed the Arc of the Covenant by world-weary delegates. Hang on! France! France! What are you doing? You have folded the voting paper the wrong way. Yes, friends, there are specific instructions about how to fold the ballot slip.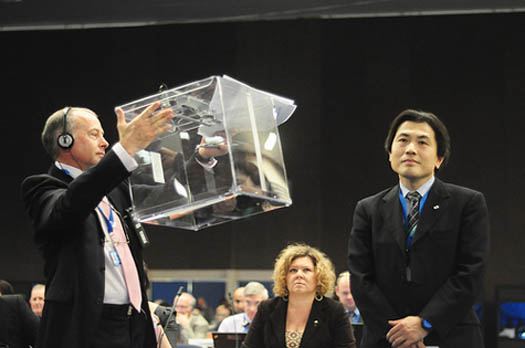 Transparency trumps the former Arc of the Covenant
Once all the ballots have been folded correctly and placed in the voting box, the names of all the countries are read out — again — in full and in French. The box is taken off to a special Green Room for counting and the empty box is paraded around the room in a depressing effort at showmanship. Look at the see-through box, all the papers have gone. We are now counting them. In the Green Room.
After counting, the election procession comes back in and after a bit more pomp and ceremony the results are announced. If no one reaches the required majority, the process is repeated all over again. Sometimes the next morning, if it's getting late.
This process is repeated five times for each of the five available seats. But here's the real crunch: three of the five posts only had one person standing for election.
So 200 government reps spent two days locked in a room to hear that 96 percent of them had voted for Hamadoun Toure as SG; 99 percent had voted for Houlin Zhao as Deputy SG; and 97 percent had voted for Malcolm Johnson as ITU-T head. No one is quite sure what would have happened if they hadn't all voted in favour.
So let's get this in context: the ITU is the organisation that develops and decides the standard for, among things, satellite communications, television and cable, DSL, telephones, digital video, and many, many other cutting-edge tools of the modern world.
Surely someone in the organisation must have come across electronic voting keypads in the past 145 years? If they can do it for Who wants to be a Millionaire, then surely they can do it for a $350 million intergovernmental organisation that decides space law!
The truth is that this could all change extremely quickly if there were the political will, and if there weren't huge cultural inertia to getting rid of these worthless symbols of the past.