This article is more than 1 year old
196 nations open three week (!) telecoms congress
Quadrennial quagmire or efficient conclave?
Turnaround
But what makes it all the most incredible that such a pointless and time-consuming ceremony is incorporated into the ITU's make-up is that in other respects, the organisation is at the cutting edge.
It puts out roughly one new standard a day every day, every year. It recently decided on the latest update to the H.264 video codec, and also approved a universal mobile phone charger, which is gradually coming in effect. And these are just the ones that get attention. Many more are allowing the modern world to zoom smoothly along, completely oblivious to the ITU's work.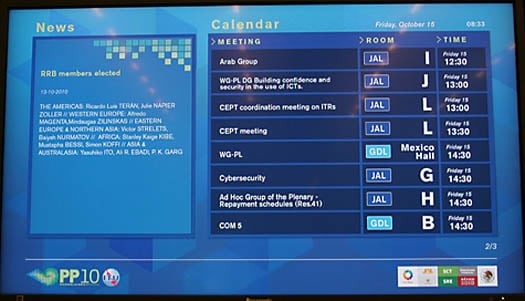 Don't miss 'Ad Hoc Group of the Plenary - Repayment schedules (Res.41)' — it should be a kicker
Administratively, the ITU is extraordinary – turning around dozens of documents every day, translating them into five languages, and getting them out again within 24 hours. Dozens of meetings are coordinated swiftly and efficiently, and ad hoc groups are given extraordinary freedom to create new groups and have them pulled into the overall schedule at a moment's notice.
The conference itself is extremely well organised and run, thanks to the Mexican government and the state of Jalisco, which supplied the resources. The staff and other organisers are professional, accessible and helpful. A huge number of ideas are raised, discussed, edited, re-edited, put out for discussion, resolved, and approved in tight timeframes and with a general sense of calm.
So, why are people so annoyed with the ITU? And why, in the internet community at least, is the organisation a byword for malicious intent? Well, to understand that you need to meet the representative from Syria, Nabil Kisrawi.
But more tomorrow about Kiswari, along with self-defeating ITU discussion rules, the "Big Boys" and their units, and young women in leather mini-skirts at the steak restaurant. Here in Guadalajara it's now Sunday afternoon — which means, of course, that people are still meeting.
After all, you've only got three weeks. ®
This article originally appeared in slightly different form on kierenmccarthy.com.