Review Perhaps I'm getting cynical, but it's a rare event these days when a product crossing my desk positively fires me with enthusiasm. And when it comes to yet another disk device - we old journos call the subject of storage "snorage" - what could be duller? The myDitto from Dane-Elec is an exception on both counts.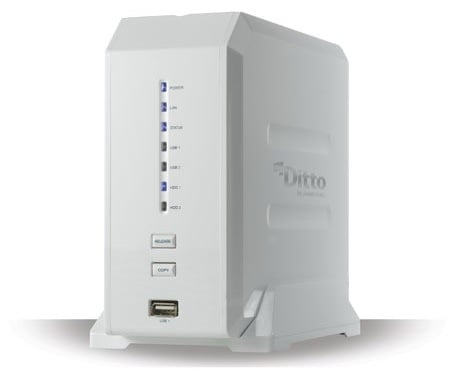 Dane-Elec's myDitto: sobre-looking yet a doddle to use
It's a small, hospital-white cabinet with room for a pair of 3.5in drives and a front panel displaying a column of blue status lights topping a couple of buttons and a USB port. At the rear is a second USB port and a Gigabit Ethernet port. It runs quiet and cool, and physically that's probably about as much as you need to know about it.
Yes, it's a Nas device. But done right this time. The extra storage appears as an SMB drive - a Windows-style share - on all the Linux, Mac and Windows machines on your network. All the media you have stored in the Public directory will also be UPnP-accessible across your LAN, which means that suitable software and compliant hardware devices will be able to play your music, show your pictures and run your movies. In addition, any music files in the same directory will appear as a shared iTunes source right across your LAN.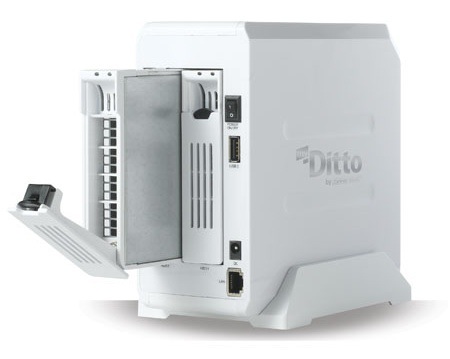 Caddied-up for two hard drives
And it'll take you all of two minutes to set this up. No software to install, no messing with your router.