Western Digital has unveiled the world's first 3TB internal drive, a Caviar Green model with four platters.
This is a vast, astounding capacity, considering many desktop computer systems are operating with less than a terabyte of drive capacity. Seagate introduced its FreeAgent GoFlex 3TB drive in the summer and that was a huge announcement. WD announced its own 3TB external drive in My Book Essential and My Passport Essential form a couple of weeks ago.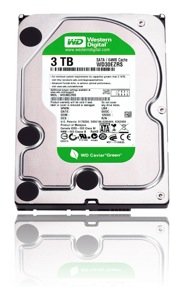 WD has pipped Seagate though, announcing an internal 3TB drive before its arch-competitor, and doing so with four platters and not the five needed by Seagate. A 3TB Barracuda XT from Seagate is expected by year-end.
This means that WD has been able to reliably manufacture 750GB platters, spinning at 5400rpm, and with an areal density in the 500-550Gbit/in2 area. Its 2TB RE4-GP having around 400GBit/in2 and 500GB platters.
Seagate's 3TB drive spins at a faster 7200rpm but it is a fourth generation PMR (Perpendicular Magnetic Recording ) technology drive with 600GB per platter. The Caviar Green uses fifth generation PMR.
The 3TB Caviar Green also comes in a 2.5TB version and both are Advanced Format drives that face problems being used by 32-bit versions of Windows and older PCs.
WD says that drives larger than 2.2TB can be used as a primary boot drive or as secondary storage. To boot such a drive the host system has to have Unified Extensible Firmware Interface (UEFI) firmware. Most existing PCs don't have this, but systems shipping from the second quarter of next year onwards should have.
Windows XP has problems in this area and is not being supported by these Caviar Green drives. It may support the drives' use as USB-connected external storage if a correct USB bridge is used.
The 32-bit versions of Vista and Windows 7 support secondary storage use only. The 64-bit versions support booting from the drive when the host motherboard has the UEFI firmware.
Mac OS X Leopard and Snow Leopard support the drive for booting and secondary storage. The latest Linux distributions do so as well.
WD's EVP and GM of its client systems storage group, Jim Morris, said: "Customers will be able to take advantage of [the new Caviar Green drives] for secondary external storage in legacy 32-bit systems that run on Microsoft Vista or Windows 7 platforms." The drives come with an Advanced Host Controller Interface (AHCI)-compliant Host Bus Adapter (HBA). This enables the host O/S to use a known driver with correct support for large capacity drives.
The 2.5TB and 3TB Caviar Green drives are available now with manufacturer's suggested retail pricing of $189 (£155) for the 2.5TB one and $239 (£195) for the 3TB product. Both have a three-year warranty. ®