US whirlycraft firm Sikorsky, having successfully flown its revolutionary (cough) X2 triplex sprint-chopper to an impressive 250 knots, says that it will now look to put the same technology into a prototype armed scouting craft aimed at the US Army. However, the company seems keen not to spend too much more of its own cash on the effort without some concrete sign of interest from the customer.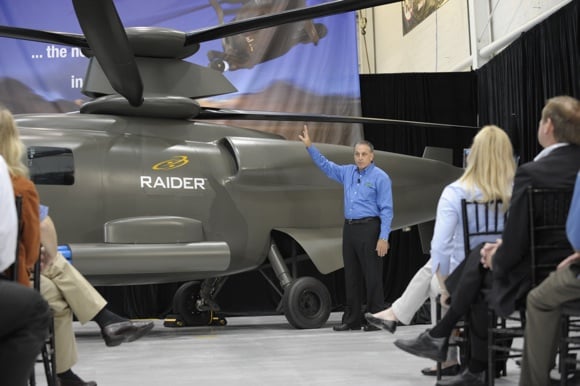 I'm tellin' ya, ladies and gents - this thing goes like greased weasel shit
"Having proved the X2 Technology design to ourselves, we have full confidence we can now mature the technology for the US Army's light armed reconnaissance helicopter," said Sikorsky President Jeffrey Pino at a briefing yesterday. "Self-funding the design of a brand new light tactical helicopter – the Sikorsky S-97 – and manufacturing two prototypes we have designated as the Raider™ X2 helicopter will help military aviation evaluate the viability of a fast and maneuverable next generation rotorcraft for a variety of combat missions."
It seems, however, that Sikorsky execs are hoping that the firm won't really have to self-fund the whole process of making the two Raider military demo craft - as it did with the original X2 proof-of-concept machine. Sikorsky adds that the next thing to happen will be a preliminary design review in 2011 and that "first flight, projected in four years, could depend in part on the pace of development and customer need".
The existing X2 reached its design speed of 250 knots in tests last month (see the vid on the next page) comfortably beating even the fastest normal chopper* and more than doubling the top speeds of most. Normal helicopters' speed is sharply limited by the fact that the tips of the forward-going rotor blades go supersonic as the aircraft speeds up. Their speed is also limited by the fact that backward-going blades will become stationary with respect to the air they cleave and so stop producing lift on one side of the craft.
The X2 avoids this by having two stacked contra-rotating sets of rotors, so that there are blades going forwards on both sides at any given time. The issue of supersonic blade tips is dealt with by slowing down the rotors' spin as speed increases, a thing that ordinary choppers can't do. The X2 shoves itself forward to higher speeds by the use of a pusher tail prop.