Intriguing news today on the flying-car front - and indeed many other fronts. A Californian space-rocket company says it has received US government funding to develop a miraculous engine that would offer as much power-for-weight as a gas turbine, but would be much cheaper and simpler to make and maintain.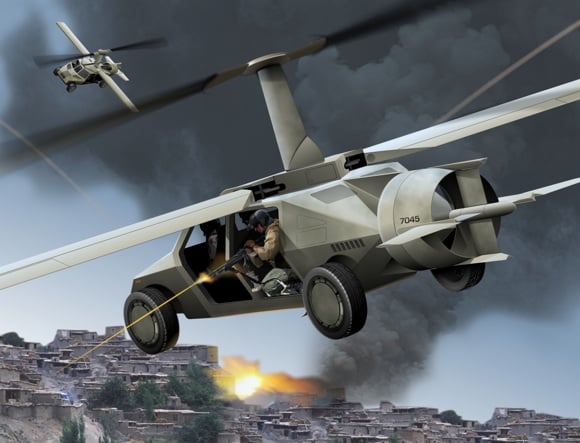 Diesel reliability was comforting, but Larry found the neighbours' envy of his new aircar tiresome after a while
Pratt & Whitney Rocketdyne, purveyors of grunt to the US space programme among others, announced the $1m contract award on Tuesday. The company says that its "EnduroCORE" engine offers "a high power-to-weight ratio comparable to gas turbines". But this isn't an expensive-to-run maintenance nightmare like a regular aviation turbojet or turboshaft as seen in today's planes and choppers. This is "a durable, lightweight, high-performance diesel engine ... mechanically simple for reliability", which has "demonstrated quiet operation in testing".
That ticks a lot of flying-car boxes. It's powerful enough, potentially, for vertical-takeoff and hovering: yet it's simple and reliable like a diesel. In other words, an ordinary person could own and maintain one. And it's quiet too.
Better yet, it's evidently suitable for use in flying cars because that's exactly what the government contract is aiming for. The EnduroCORE deal is intended to provide the powerplant for the "Transformer TX" project, which we've covered on these pages previously. Transformer TX is intended to produce a four-seater flying jeep/Humvee-style machine able to drive offroad on the ground or lift off vertically and fly about under the control of a human operator (one without any more specialist training than it takes to get an ordinary-car driving licence). The idea is that such air-jeeps would be used by US Marine units too small to have their own attached helicopters.
The design of the TX is yet to be settled. It might be a specially-pimped gyrocraft jumpcopter as pictured above, or an alternative ducted-fan-in-wing job from aerospace behemoth Lockheed (details on that variant remain scant). However, it now appears that whichever design is chosen, the powerplant is likely to be an EnduroCORE wonder-diesel rather than a noisy, thirsty, high-maintenance turbine.
That caused us to sit up here on the Reg flying-car desk. We got in touch with Scott Claflin, Rocketdyne bigwig in charge of "Power Innovations", to find out some more.
According to Claflin, the EnduroCORE is neither a regular piston diesel, nor yet a trendy turbocharged job. He describes it as "a novel type of rotary engine" that can run on any heavy fuel - military JP-8 or regular diesel are both fine. He confirms the marketing hype, saying that EnduroCORE "will have an installed power-to-weight similar to gas turbine engines".
Unfortunately Claflin wouldn't be drawn on further specifics, saying that the EnduroCORE tech is a proprietary company secret - and in any case counts as valuable military technology and so is subject to US war-tech-control laws.
If all that Rocketdyne says is true, however, this is exciting stuff: not just for the US Marines but for all of us in years to come. Other obstacles to our long-awaited flying cars have been removed: modern automated controls and satnav mean that it's a fairly trivial technical exercise to make light aircraft that can take off, fly about, land themselves and even interface with air-traffic control systems without human input.
But, cunning airframe designs notwithstanding, for a proper vertical-takeoff flying car some new miracle powerplant - with the grunt of a turbine but without the cost and hassle and noise - is almost certainly a necessity. And now, according to Rocketdyne, it's here. This would also naturally mean a lot of other goodness - better generators, better ground cars, better conventional aircraft: but the most radical new thing it could enable would be proper Jetsons-esque flying cars.
Terrific - but as ever with flying-car stories, there are a couple of caveats. Firstly, Rocketdyne specifies that "high rotating speeds" are required to get maximum poke from EnduroCORE. This is a hint that some burdens associated with turbines may still exist - the need for complicated and trouble-prone gearboxes as in today's helicopters, for instance, not to mention high-speed bearings and so forth in the engine itself. Doubtless an EnduroCORE-powered US Marine hoverjeep would be cheaper to run than a helicopter, but it probably won't be as cheap as an ordinary Humvee.
Then, of course, one should remember that Transformer TX (and Tuesday's EnduroCORE signing) come to us from our old friends at DARPA. DARPA projects, typically, are to real-world technology as enormous artificially-mutated sharks with energy weapons mounted on their heads are to home security; that is, they're interesting but impractical for most users.
Even so, the EnduroCORE deal is promising sign for us flying-car hopefuls. With any luck the still-more important brainchip monkey butlers will be along shortly, too. ®