The Daily Briefing tile is typical of the missed opportunities - tap on it and you'll get local weather, news and financial information, but despite being double width (a privilege Microsoft reserves for itself and chosen partners) the tile shows no information at all - rather defeating the object of the interface.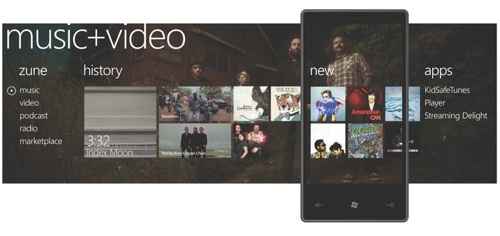 Equally useless is the Twitter application, which couldn't update even if it wanted to as third-party applications aren't allowed to run in the background (again, that's reserved for Microsoft and its preferred people), so tapping on Twitter leads to a wait while the client updates itself.
But that's in stark contrast to the Zune tile, which shows what the interface can do by automatically showing an image related to the last track played (album cover or just an image of the band) and taking the user into the Music and Video hub, which is the most impressive of the hubs that form the rest of the interface.
Take it from the Zune
Hubs are interfaces made up of multiple screens, arrayed horizontally, and one scrolls back and forth by sliding a thumb across the screen. Each screen extends slightly into the neighbouring screens, and consists of text menus or more tiles. Third parties are encouraged to put other things in there, as HTC has demonstrated with massively over-the-top transition animations, but it's the only place where manufacturers, and operators, are free to express themselves. Microsoft uses the same paradigm in email, for moving between mailboxes, and elsewhere, but the best example is the Music and Video hub.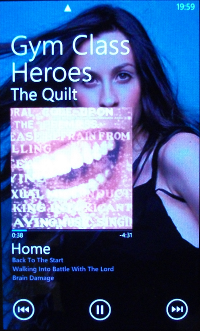 It sure didn't sound like Alanis Morissette
Unlike its predecessors, Windows Phone 7 won't mount as a USB drive, taking its lead from the iPhone it will only integrate with Microsoft's desktop software, Zune. The Zune software does a decent enough job of imitating iTunes, though it won't synchronise your address book or diary - that's a job for the cloud - but it will sell you music and keep track of what you've got installed.