Once your media is on the phone, you can easily browse through it using the hub interface to navigate between the recently played, newly installed and media menus, the latter allowing one to navigate between albums, tracks and artists in another hub interface.
The same approach is used for everything from navigating between email boxes to browsing SharePoint documents, and works pretty well. Taking its cue from the iPhone, there's no option to pull up a menu at any point, which left us scratching our heads more often than one might hope.
Windows Phone 7 likes to link things together, so tap on a contact and you can see their latest status, and write on their wall, as well as the more-mundane phoning and email. But that level of integration means specialisation, so you can only write on a Facebook wall, not post a question to LinkedIn or update a status on Orkut - and don't expect to see a contact's IM status appear in their profile. Microsoft says it will add other services, but it won't provide APIs for anyone else to do so as that would be mean letting them run background tasks - which isn't allowed.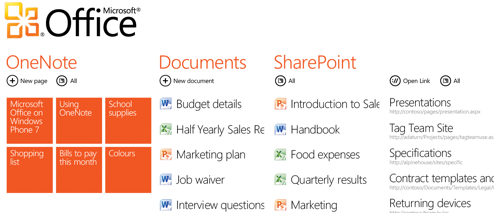 Microsoft is allowed to do that, of course, so music happily plays in the background, and the People hub runs around updating Facebook profiles and synchronising contacts and diary with anything that supports ActiveSync - including Google, so background processing is very much part of the model, it's just that only Microsoft can be trusted to do it right.
But if you do use Google for your data, have an active presence in Facebook and are prone to the occasional tweet (@bill4000, thanks for asking) then the phone works. And as that probably includes a significant proportion of the population, then Microsoft could be onto something.
Once we'd settled into the lack of menu, and the fact that the Back key is on the opposite side from the Android handsets, then the phone is quite usable - Office documents can be edited, music plays and the browser is stunning.