Apple bolts chastity belt on super svelte MacBook Air
But let's go in anyway
Photos Apple doesn't want you mucking about inside its new 11.6-inch MacBook Air. But once you get past its defences, you'll find that its SSD-on-a-card storage system is a snap to remove.
Those are two of the conclusions reached by the parts and repair folks — and teardown fanatics — at iFixit, who bagged one of the svelte ultra-portable notebooks and promptly vivisected it.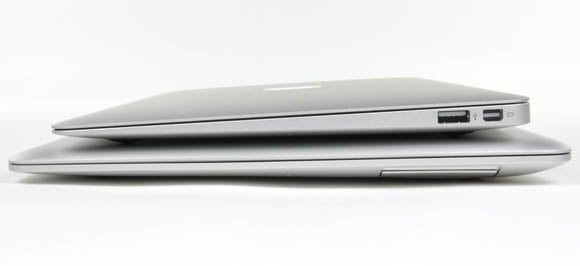 Compared with the older 13.3-inch Air, the new 11.6-incher looks as if a Chinese cook could use it to prep stir-fry
"Apple apparently doesn't want you inside this thing," iFixit explains. "They decided to use 5-point Security Torx [below, right] to attach the lower case." Fortunately, if you don't have the right size Security Torx driver in your toolkit — or any Security Torx drivers, for that matter, you can cheat and use a small or filed-down flathead screwdriver.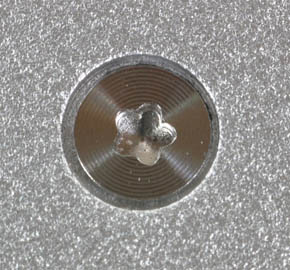 Apple's way of saying 'keep out'
Once those $#@!ing oddball screwheads have been successfuly negotiated, lifting off the lower case is a simple matter.
Once inside, iFixit discovered six lithium-polymer cells that add up to the Air's 35 watt-hour power source — a different arrangement than that in the photo that Steve Jobs displayed of the inside of the 13.3-inch version at the ultralight's unveiling Wednesday, which show four larger battery cells. We had guessed that three of the larger cells would be found in the 11.6-incher; we were wrong.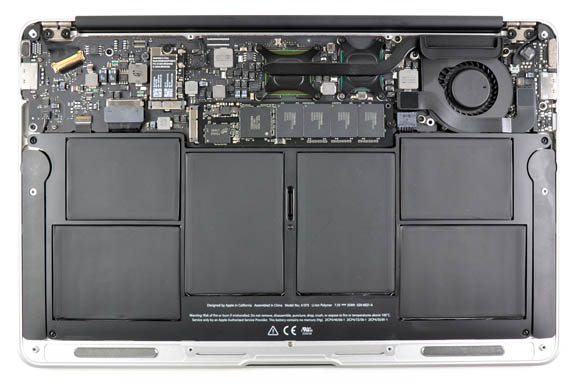 On that wee logic board above the bank o'batteries resides the entire Mac experience
iFixit discovered that removing the Air's storage module was an easy task. That's the good news. The bad news is that according to iFixit, "The drive is a completely custom part, and will probably only be available through Apple support services, thereby putting another nail in the coffin for user-serviceability."
"It's attached to the logic board with what appears to be a new mini-SATA (mSATA) connector, which brings hope to super-slim-laptop-hackers all across the globe," says iFixit's Miro Djuric. "This may enable some crafty tinkerers to rig a larger drive inside the Air, provided they can fit everything within the tight confines of the .68" thick case."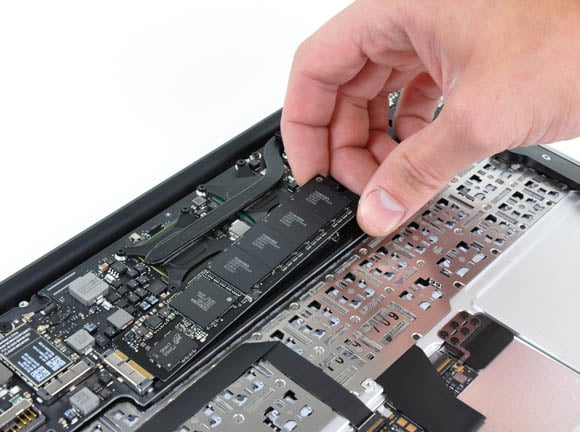 The SSD is easy to remove — too bad there are no readily available upgrade parts. (Yet?)
As with both new Airs, the 11.6-inch Air has an Nvidia GeForce 320M GPU, and is "powered" — and we use quotes out sheer sarcasm, seeing as how the chip is aging and low-clocked — by an Intel Core 2 Duo running at 1.4GHz.
Snarkiness aside, though, that CPU was most likely necessary due to the tight thermal constraints of the Air's case and power supply. Sure, a better-performing chip would have been nice, but at least the CPU is paired with the Nvidia 320M, which will undoubtedly outperform the integrated graphics of the newer Intel parts.
Ars Technica, by the way, has an Airy GPU/CPU exegesis that's well worth checking out.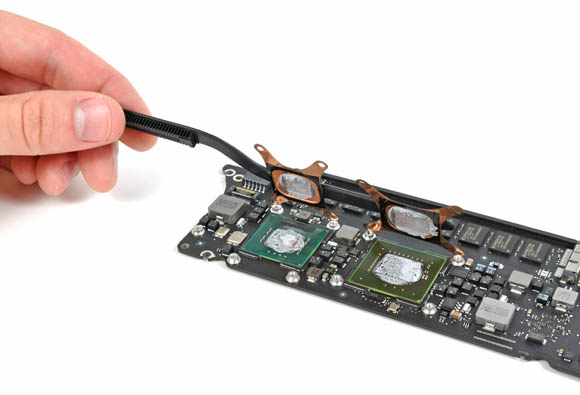 The CPU/GPU heatsink snuggles up to each chip in blankets of thermal paste
With all its guts splayed out on an iFixit workbench, it's clear how much internal real estate Apple has devoted to the battery cells inside the 11.6-inch MacBook Air. And how far we've come in the 21 years since the 15.8-pound (7.2 kg) Mac Portable was released.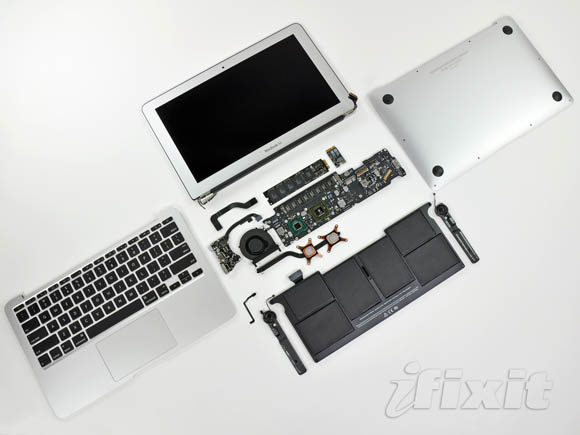 Slick engineering, but the Air's proprietary parts prompt iFixit to score it a mere 4 out 10 for serviceability
To indulge yourself in more naked logic-boardnography and other visuals and analysis, check out iFixit's entire 40-photo teardown. ®