Review The design is bonkers, of course. TVonics has never favoured the box-like looks preferred by its rivals, of course, but the DTR-HD500, with its oval, upward sloping front-meets-top, owes more to the likes of the Sony PlayStation 3 than other DVRs.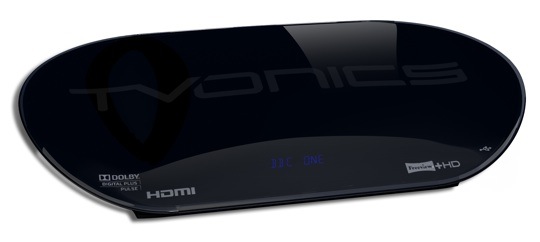 TVonics' DTR-HD500: has to go on top
That said, even the PS3 can be placed on its side. Not so the HD500, which therefore has to be placed on a large, flat surface, whether on a table alongside your telly or on top of your stack of AV kit, if there's room. It's hardly discreet.
Inside, however, you'll find a standard Freeview HD-capable DVR. The HD500's one novelty is the presence of a pair of extra HDMI ports on the back, both inputs. If you don't have enough HDMI ports on your TV, you can use the TVonics box as a switch. Each input has its own key on the remote.
Older tellies are catered for with a Scart port, and however old your TV is, the HD500 passes through its antenna input to your set's on-board tuner.

HDMI inputs included in case your TV has too few
The HD500 has the inevitable Ethernet port, but this is reserved for future firmware updates that may introduce support for online services such as YouView. Or may not. A USB port on the back, and another on the right side - mounted upside down - can be used to slideshow digital photos.