Google now handles more interwebs traffic than all but one of the world's ISPs, after gaining more than one per cent of the net's total traffic over the past nine months, according to data from network-security outfit Arbor Networks.
In a blog post, Arbor chief scientist Craig Labovitz dubbed this a record traffic gain. "In their earnings call last week, Google announced a record 2010 third-quarter revenue of $7.29 billion," he said. "This month, Google broke an equally impressive Internet traffic record — gaining more than 1% of all Internet traffic share since January. If Google were an ISP, as of this month it would rank as the second largest carrier on the planet."
Labovitz did not name the largest tier-one ISP. And when we've asked him to divulge such information in the past, he has declined, citing "commercial reasons."
Of course, Google is a bit different from a tier-one ISP. ISPs handle traffic from myriad sources — including Google. The Googlenet handles only Google traffic.
According to Labovitz, Google now represents 6.4 per cent of all internet traffic. He also says that 70 per cent of Google's traffic is now delivered directly to consumer networks — an increase of 5 to 10 per cent from last year. The only major ISPs without direct Google peering, Labovitz said, are several tier-ones and government-run telecommunications agencies (PTTs), which may be legally prohibited from settlement-free peering.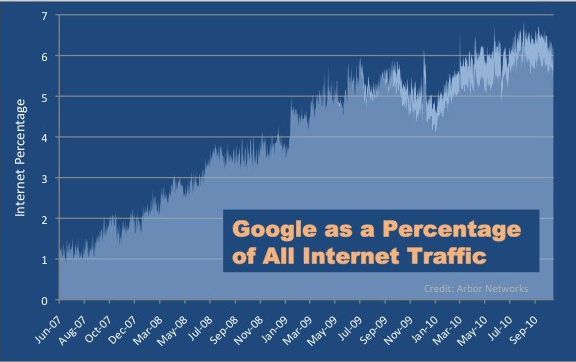 As Google expands its worldwide network data centers and colocates public exchanges across the globe, it also continues to deploy its Google Global Cache (GGC) servers inside consumer networks. If Labovitz includes traffic offloaded by GGC serves, Google's traffic may be somewhere between 8 and 12 per cent of all net traffic.
The net as a whole is growing, too — but not as fast as Google. "Keep in mind that these numbers represent increased market share," Labovitz says. "Google is growing considerably faster than overall Internet volumes which are already increasing 40 to 45% each year."
The Googlenet now spans about 36 data centers worldwide, and the company plans the expand its private network to between one million and 10 million servers, encompassing 10 trillion directories and a quintillion bytes of storage and spanning "100s to 1000s" of locations around the world. ®
Similar topics