Sony is ditching the groundbreaking Walkman cassette player in its home market, 30 years after first launching its assault on the hearing of teens and the patience of the people sat next to them.
The electronics giant said that demand for the serial crinkly recording format had nosedived in Japan.
"There is still demand in certain regions, including emerging markets, but in Japan there has been a shift to other forms of recording media," a Sony spokesman told The Telegraph.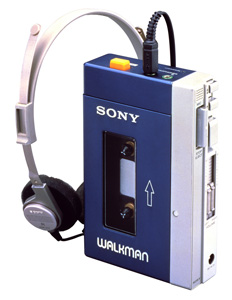 That's as may be, but we can't see it hanging around for too long in other markets either. Just getting hold of cassette tapes is hard enough. UK mega electricals retailer Dixons doesn't list either cassette Walkmans or cassette tape on its site.
With most houses drowning in MP3 compatible devices today, it's perhaps hard to imagine the impact of the (then) unimaginably tiny tape player when it launched around the turn of the 80s.
While the youth had previously been able to clamp a tranny to their ear, that still tied them to the playlist of Radio 1 or their local commercial station. Alternatively, a clunky ghetto blaster provided a sort of portability, but was not exactly pocketable, and still sounded crap.
So when Sony boss Akio Morita demanded his engineers knock up a device that could free him from in flight radio on long-haul trips, he set in train a revolution.
Within a couple of years the idea of a common youth culture was blown to smithereens as teenagers stopped talking to one another and bobbed their heads to their own musical selections.
Meanwhile, tabloid hacks began blasting out stories laced with dire warnings about the youth blasting their hearing to smithereens, at least when they weren't walking in front of traffic, a tradition that has lasted longer than any of the intervening recording formats.
Yes, it's difficult to recapture the mood of those heady early 80s days, but Sir Cliff Richard's classic video for Wired for Sound might help.
If Cliff ain't your thing, check out Bow Wow Wow's hymn to the C30, C60 and C90 cassette formats. ®
Similar topics
Narrower topics