Motorola Backflip Android smartphone
Twisted thinking?
Review Motorola's embrace of Android has certainly got the company's creative juices flowing. For the Backflip it has eschewed the traditional slide-out keyboard design and cooked up something altogether new.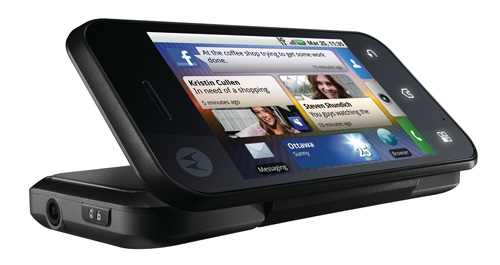 Star turn? Motorola's Backflip
The name Backflip perfectly describes the new form factor. Hold the phone in landscape with the screen facing and you can flip the keyboard down from the back through 180 degrees until it ends up sitting below the screen. If that doesn't make sense Motorola has put together an explanatory video. You need have no worries about the large single hinge that connects the two parts of the handset. It's a very solid affair.
This rather funky design has three advantages. Firstly, the keyboard-mounted camera can be used for taking pictures in the conventional manner or as a webcam for self-portraits depending upon the keyboard's orientation.
Secondly you can sit the Backflip on a table and angle the screen to watch video which is good news if you plan on using your phone as a PMP. Set it to table-top mode and in standby a large clock appears making it a handy bedside timepiece.
Finally the back of the screen is home to a PC-like touch-pad called a BackTrak, that lets you scroll or pan about the screen without your fingers getting in the way. Selecting something is a simple matter of double-taping the pad. It's an interesting idea that I found easy to use after a little practice. Yet, it's as much a gimmick as a true advance in smartphone control.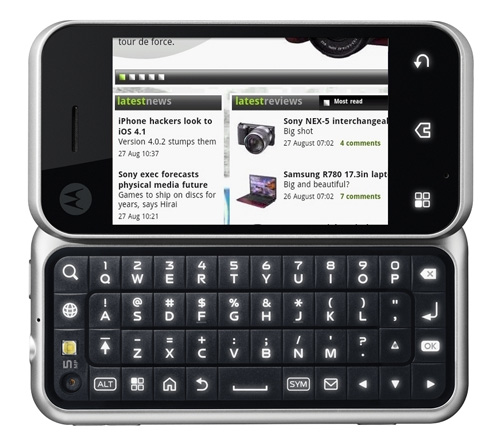 Gapless Qwerty keyboard keeps out the crud
The powerfully backlit keyboard is nicely laid out with three rows of alpha-numeric keys partially surrounded by a range of handy shortcuts. The keys themselves though are rather flat and lifeless and have a shallow pitch making typing easy, if not exactly enjoyable. Potential damage resulting from the keyboard being constantly exposed to the elements is offset by the sturdy single-sheet design which leaves no gaps to let grit or dust in.