More annoyingly Motorola has lumbered the Backflip with Android 1.5 which was long in the tooth when the phone was launched in Europe earlier in the year and is even more so now UK availability is finally here. Sadly, no upgrade is planned for handsets outside the USA, and the Motoblur social integration suite, while handy, is no recompense for an out-of-date OS that lacks Google's free turn-by-turn navigation.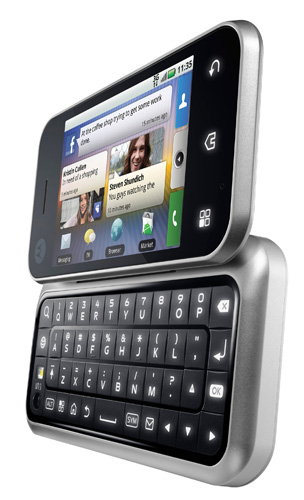 An attractive idea, but let down by its early Android OS
The 3.1in 480 x 320 capacitive touch screen is identical to that fitted to the Motorola Dext and, while responsive, is neither particularly bright nor colourful and doesn't support multi-touch. Its performance in direct sunlight is also nothing to write home about.
As Android 1.5 only supports 65k colours, the screen's support for 256k is redundant. Fold the keyboard down and the screen swaps from portrait to landscape but an accelerometer means you can also use the screen in landscape with the keyboard folded.
Wireless connectivity comes courtesy of 802.11 b/g Wi-Fi and Bluetooth 2.0. The microSD card slot is good for cards up to 32GB and lurks under the metal battery cover. Motorola only supplies a 2GB card with the device though.
When it comes to verbal communication the Backflip benefits from having the Milestone's dual microphone noise reduction system which cancels out extraneous sounds and certainly improves call quality. How long you will get from a charge of the 1400mAh battery depends on how often you tap into the Wi-Fi, Bluetooth and GPS. Subjected to average use I was looking for a power socket at the end of every 24 hour period which is par for the course but no better.
Verdict
Motorola's new form factor is less than a revolution but still a rather clever design that makes for a versatile handset. It's just a pity that, for territories outside the US, it seems destined to run an antediluvian version of Android. ®
More Android Smartphone Reviews...

LG
Optimus
GT540
Acer
beTouch E400
HTC
Wildfire
Sony Ericsson
Xperia
X10 Mini

Motorola Backflip Android smartphone
An Android smartphone with a novel twist to its keyboard and screen sliding functions.