Samsung Omnia 7
Big display for Redmond's redial
Review Samsung's Omnia 7 is one of a handful of Windows Phone 7 devices that have gone on sale this month, and is certainly one of the largest owing to its impressive 4in touchscreen. Yet, there's something about the 1980s to the look of this phone.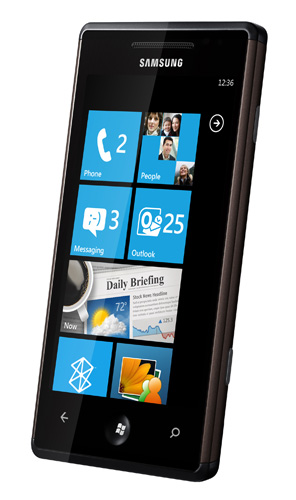 Quite a handful: Samsung's Omnia 7
Maybe it's the bevelled edges with their sharp drop off, or the very squared corners. Still, the bevelling makes the handset feel a lot smaller than its 62.4mm width would imply. The back is more gently curved, again making the handset feel less bulky, which is to be applauded given that it's a very large handset, even for the smartphone world.
Most of the specifications are laid down by Microsoft and – rather than go over them again in this review – they are covered in detail in my recent Windows Phone 7 OS appraisal here. Using the Omnia 7, this feature covers most of the handset's smartphone functions. Part of the spec is a screen resolution of 800 x 480, supporting capacitive touch for up to four fingers. Indeed, there's not much innovation permitted, as all the buttons, controls and interfacing is laid down by Redmond. Suffice to say that Windows Phone 7 on the Omnia chugs along nicely.
The centre, Start, key is physical on the Samsung, but the Back and Search buttons (also on the front of the phone) are touch panels which respond smoothly. Side-mounted buttons manage volume, power and the camera – just as on all the other Window Phone 7 handsets. On top there's a standard microphone socket, and a small sliding door covering the micro USB socket used for charging and connecting to a PC.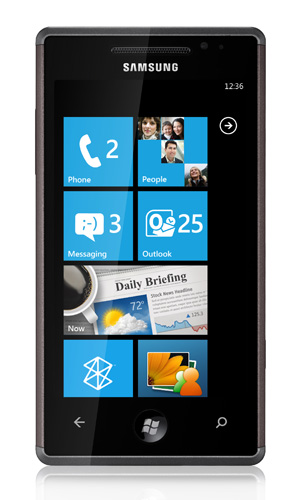 Robust and responsive
The back is part metal and part plastic – not the cheap wrapping that blights the back of the Galaxy S – being a rather more robust plastic that feels a lot more solid in the hand. A clip slides back to release the battery cover and Sim slot, though no removable storage – apparently Microsoft doesn't approve of such things.