This article is more than 1 year old
Ten... bedside iPod docks
Wakey, wakey!
Product Round-up When Reg Hardware last looked at iPod docks, we focused on premium offerings intended to take pride of place in your living room. This time we turn our attentions to some of the best speaker docks for more intimate surroundings.
All the docks included can sit on your bedside table and many have an alarm clock to wake you from your slumbers. If you don't want to get up to your favourite tunes - Judas Priest might, for some, be a tad aggressive for the start of the day - a fair few have DAB and/or FM radios built in too. Some are large, some are small; some cheap, others a bit more pricey. But one, I'm sure, will be right for you. In alphabetical order, we have...
Edifier iF350 On the Go

As its name suggests, the iF350 is primarily pitched on its portability - there's a built-in rechargeable battery - but with an FM tuner, an alarm clock and a compact size, it has all the makings of a good bedroom dock. The two forward facing 3in speakers don't make for a widely separated sound, but this boy can play it loud. The mini remote latches safely within a slot in the iF350, as does the spring-loaded but beautifully damped pop out dock and stand. A nicely designed, good sounding option.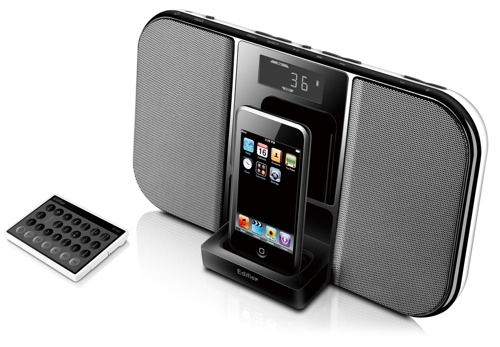 Reg Rating 75%
Price £113
More Info Edifier
JBL On Time Micro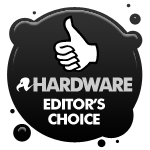 For a bedside sound system, the JBL punches out one heck of a sound. Whether sourced from the iPod dock on top - universal and accompanied by a range of inserts - the FM/AM tuner or the 3.5mm aux, this hemispherical unit gives a clear, loud and surprisingly well-separated sound that's not short on bass, either. And it doesn't distort if you need it to go to eleven to wake you up. Seven alarm slots are provided, each of which can be set for specific days, weekdays, weekends or all of them.
A mini remote means you can keep it up on a shelf rather than next to the bed, and you can power it with three AAAs if you want to take it down to breakfast with you.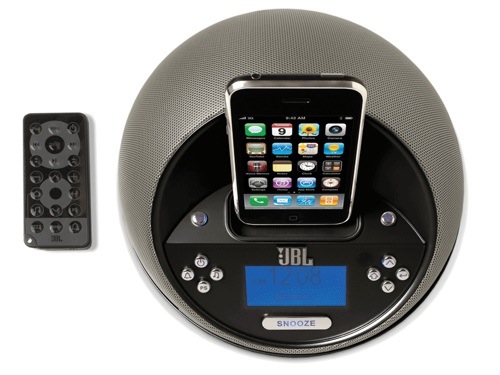 Reg Rating 85%
Price £180
More Info JBL