Ten... bedside iPod docks
Wakey, wakey!
Sony ICF-CL75iP

Sony's alarm clock radio adds iPod support as if by after-thought - the dock is retractable and slides out of the right side of the unit. It also has a USB port which, unlike those on the other products featured here, can be used to present photos and video on the ICF-CL75iP, as can a docked iPod and memory cards tucked into the SD and Memory Stick slots in the back. Yes, that big, 7in colour screen is put to full use here, though it's mostly a clock face. Sony packs in the features - there's an FM/AM radio on board, and two alarms, each with their own controls and linked to a big Snooze button on top. All these sources can be used for alarm sounds, and you can even record your own or play the built-in "nature sounds" - sea, bird song, rain and so on. Features aplenty, then - if only the sound was a little less basic and boxy.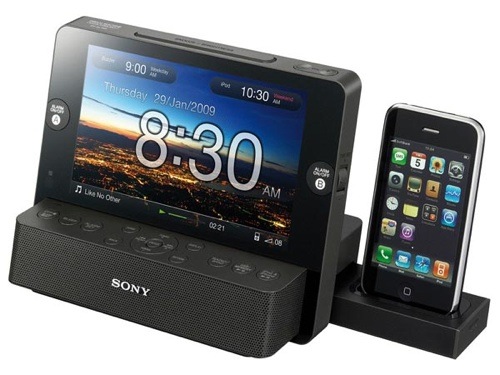 Reg Rating 70%
Price £150
More Info Sony
VitaAudio R2i

VitaAudio describes the R2i as a "tabletop stereo" and if you plan to put in the bedroom you'll certainly need a large bedside table for this boy - and probably not too close to the bed. Its imposing size, spring-loaded shuttle-style volume control, and posh stereo looks - it's wrapped in walnut veneer - suggest a higher class of hi-fi, but I found the sound to be over-resonant. Switching off the R2i's "3D sound" and "loudness" options helped, but it still felt as if it were straining to hold back distortion. In addition to the iPod dock, the R2i has FM and DAB pick-ups, plus RCA input - and output - ports. And, yes, you can set alarms just as you would with any bedside unit. But this is a box that would be happier in the living room.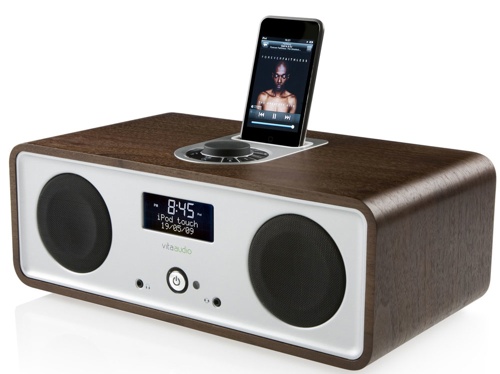 Reg Rating 70%
Price £280
More Info VitaAudio