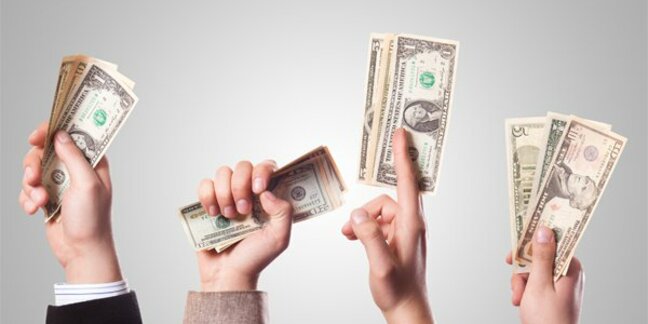 As Intel unveiled the Open Data Center Alliance on Wednesday morning, crowing that this consortium of "global IT leaders" shared its vision for an "open cloud" future and proclaiming the arrival of "Cloud Independence Day," it seemed odd that the alliance didn't actually include a cloud company.
The best you can say is that Terremark is on the list. Intel's collection of global IT leaders also includes BMW, Deutsche Bank, JPMorgan Chase, Lockheed Martin, Marriott, Shell, and UBS. But not Google or Amazon or Microsoft or VMware or Rackspace or any other big-name outfit that's actually working to offer a new breed of computing infrastructure via the interwebs.
This is a rather large hole for an alliance "looking at a world of cloud computing that is open, interoperable, and standards-based" – and for a chip giant that just hired people people to carry open cloud picket signs through San Francisco's Union Square and hand out, well, pork buns.
Yes, Pork buns. Chinatown was just up the hill, you see. And pork buns kinda look like clouds. And we're sure someone could make a solid argument that they're open, interoperable, and standards-based.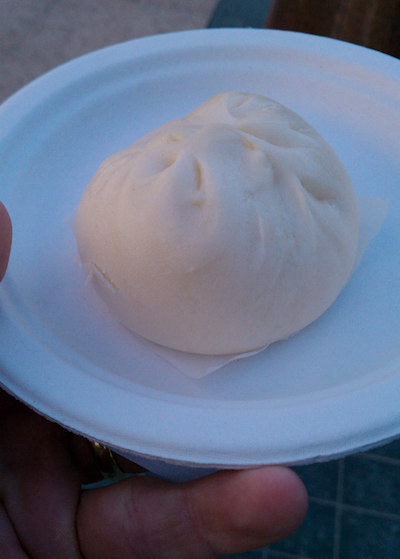 Intel pork bun
Intel and its alliance partners were asked about the cloud-vendor hole at its hype-fueled press event atop the Westin St. Francis hotel, looking over Union Square, and they responded by saying that the Open Data Center Alliance is open. "We're trying to keep the Open Alliance open, so anybody can join," said a Lockheed Martin representative. "A variety of folks have been asked to join. I think there's only so many alliances they can actually put resources on to engage with. But I think when you see a group start to build momentum, the opportunity for more groups to enter in will increase."
Kirk Skaugen, general manager of Intel's data center group, indicated the chip giant has talked to Amazon about the alliance, before adding that the initial members of the group are focused on "private clouds." As the likes of Amazon offer "public clouds" – online services that serve up scalable computing resources, including processing power and storage, via the net – the marketing geniuses of the world have seized on the idea of a public cloud that isn't public. A private cloud also serves up scalable resources, but it does so behind the firewall.
That kills the cloud metaphor. But so it goes.
"The reality is that when you have a multi-thousand server purchase power, you have a huge amount of industry influence," Skaugen said, referring to Amazon. "To a certain extent, I think they feel like they're able to get what they need. [But] they're very welcome to join.
"A lot these companies [in the alliance] are private-cloud focused. I think that when we start talking about private-public cloud bursting, it will be more important for [the Amazons] to get involved. A lot of what's being addressed here [with the Alliance] is with the private cloud infrastructure. But they're absolutely welcome."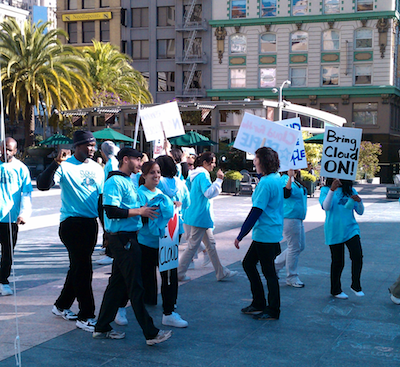 Intel cloud pickets
Skaugen also indicated that other large cloud outfits have been asked to join, but declined to name them. But he did say that "there's absolutely no way we can get to where we want to be without [the big-name cloud companies]."
Where Intel wants to be – according to Skaugen's presentation high above Union Square– is a world where companies readily move their data into public clouds and then move it to other clouds. "We want to securely move data – with confidence – between private clouds and public clouds, and between public clouds," he said. And if you want that to happen, you need, well, cloud companies.
You could argue that the existing alliance could eventually pressure the big cloud names into joining this effort. The members account for $50 billion in IT spending, and the likes of Amazon and Rackspace wouldn't object if at least some of those dollars were spent on their services. But at the moment, as Intel said, this is just one of many efforts to provide a set of cloud standards, and as far avoiding the dreaded vendor lock-in goes, it's much further from solving the problem than most.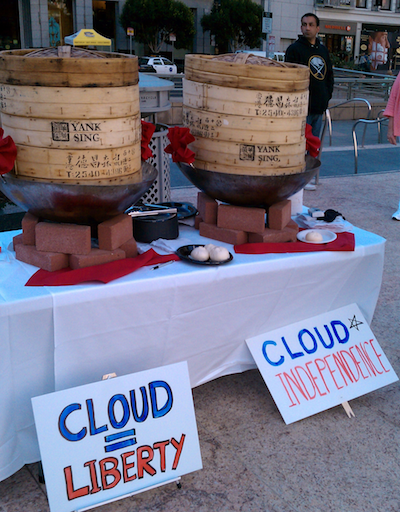 More Intel pork buns
The likes of Amazon and VMware will decide whether data moves seamlessly between clouds. Not BMW or Marriott. Amazon, it should be noted, doesn't believe in the private cloud. Company CTO Werner Vogels has called it "little more than marketing."
Intel certainly know how to market. Somehow, the world forgot that this is a hardware marker leading a charge for open cloud standards, which have very little to do with hardware. A cloud is designed to make hardware invisible. Like so many other outfits that have long made a living in the private data center, Intel wants desperately to remain relevant in a world threatening to move somewhere else. Thus the pork buns. ®
Sponsored: Webcast: Ransomware has gone nuclear