Vulture One spaceplane NOW AIRBORNE!
PARIS soars to glory with plastonaut inside her
---
Updated Good morning and welcome to the live coverage the Paper Aircraft Released Into Space launch and pursuit.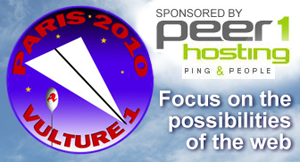 First up, you can follow us on Twitter, with regular updates from our man John Oates in the main payload pursuit vehicle. He'll be in continual contact with myself and radio man Steve Daniels in the Vulture 1 chase car, so that's your best source for the current state of play.
The PARIS main payload and Vulture 1 are packed with meaty tracking goodness, and some of that data is available live on El Reg. Bear in mind that we won't be getting a signal from all the kit all the time, so patience is the order of the day.
Here's the feed from the main payload GPS tracker. You'll need to refresh the map to get updates:
You can also follow the Vulture 1 and its pursuit vehicle here on a similar map. Alternatively, everything we've got in the air and on the ground will appear as if by magic via the APRS system. The relevant callsigns are:
EA/G6UIM: The main payload morse beacon, transmitting "PARIS Balloon Beacon" every 30 seconds on 432.055MHz.
G6UIM-9: The main payload pursuit vehicle.
G6UIM-11: The main payload back-up transmitter, broadcasting "EA PARIS Balloon" on 144.800MHz.
G6UIM-12: The Vulture 1's GPS/APRS board, transmitting on 433.800MHz.
That's about it. Onwards and upwards. ®
Updated to add
We here in the London PARIS bureau would recommend this link for watching the balloon, and this one for one of the chase vehicles - which appears to be chasing away from the balloon as of writing. As yet the actual PARIS plane tracker information is difficult to interpret. We're sure all will become clear in due course.
Additional PARIS resources
Our dedicated PARIS section, with all previous updates, is right here.
New to PARIS? We have a basic mission summary here (pdf).
Our Flickr page, for your viewing pleasure.
Check out our lovely YouTube channel.