This article is more than 1 year old
Duracell MyGrid cable-free gadget charger
Wireless electricity
For the supported smartphones - and the iPod Touch, incidentally - the cases are something you can leave in place. They're made of thin rubbery plastic so they don't add too much to the handset's bulk, though the iPhone casing has a thick bulge at the base to accomodate the dock connector.
But, unlike Powermat, Duracell's designers haven't had the wit to include a pass-through port - Powermat's iPhone cases have a mini USB port - so you'll have to remove the case every time you want to sync your phone.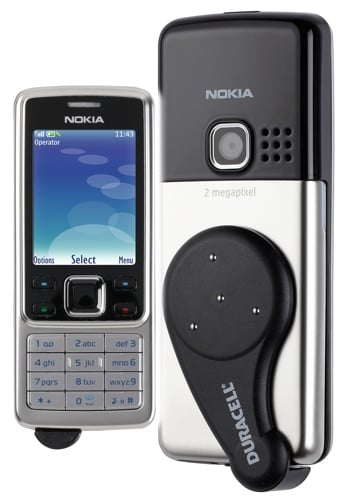 Some charging clips, like this one for Nokia phones, attaches to the back
This isn't a problem with the BlackBerries and their side-facing USB ports, but their MyGrid cases are just as cheaply moulded, with spaces that don't perfectly align with the controls and ports they're opened for, and occasional flashing.
Case in place, you just set the device down on the MyGrid charging pad, which connects to the mains through a 15W phone-style AC adaptor. Magnetic strips on the pad stop the gadgets sliding off while they're being powered.
I found the devices latched onto the Duracell pad more easily - and therefore more quickly - than their Powermat equivalents do. But the Powermat is the smarter looking of the two.
Verdict
The value to you of a product like Duracell's MyGrid will depend on how many devices you need to charge at once. Got two phones, one for work, one for play? This will save you running two separate AC adaptors in parallel. But with its better-produced cases, adaptors and charging pad, I'd be more inclined to go for the Powermat than Duracell's lesser - but no cheaper - offering. ®
More Accessory Reviews

Powermat
iPhone 4 kit
Brasso
Gadgetcare
QPad 5K
Standivarius
Arte

Duracell MyGrid cable-free gadget charger
Cable-free charging system for iPhones 3s, BlackBerries and some other handsets.
Price:
£70 (Charge Pad) £20 (Power Clips and Cases) RRP