3D HD camcorders can easily set you back four figures, but budget alternatives are available - the latest of which is the ViewSonic 3DV5.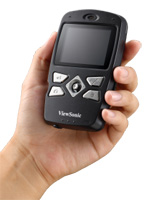 The device comes with a built-in 2.4in autostereoscopic display, where videos can be seen in 3D without the need for glasses.
The 3DV5 captures 720p MP4 videos as well as still images and stores it all on a MicroSD card. You can switch between 2D and 3D modes.
Footage can be uploaded to YouTube's 3D channel and viewed with the anaglyph glasses supplied.
The ViewSonic 3DV5 is available now and costs £150. ®